Angel Perez Engages Jingle Ball Announcement Crowd With CHAUVET DJ
October 2016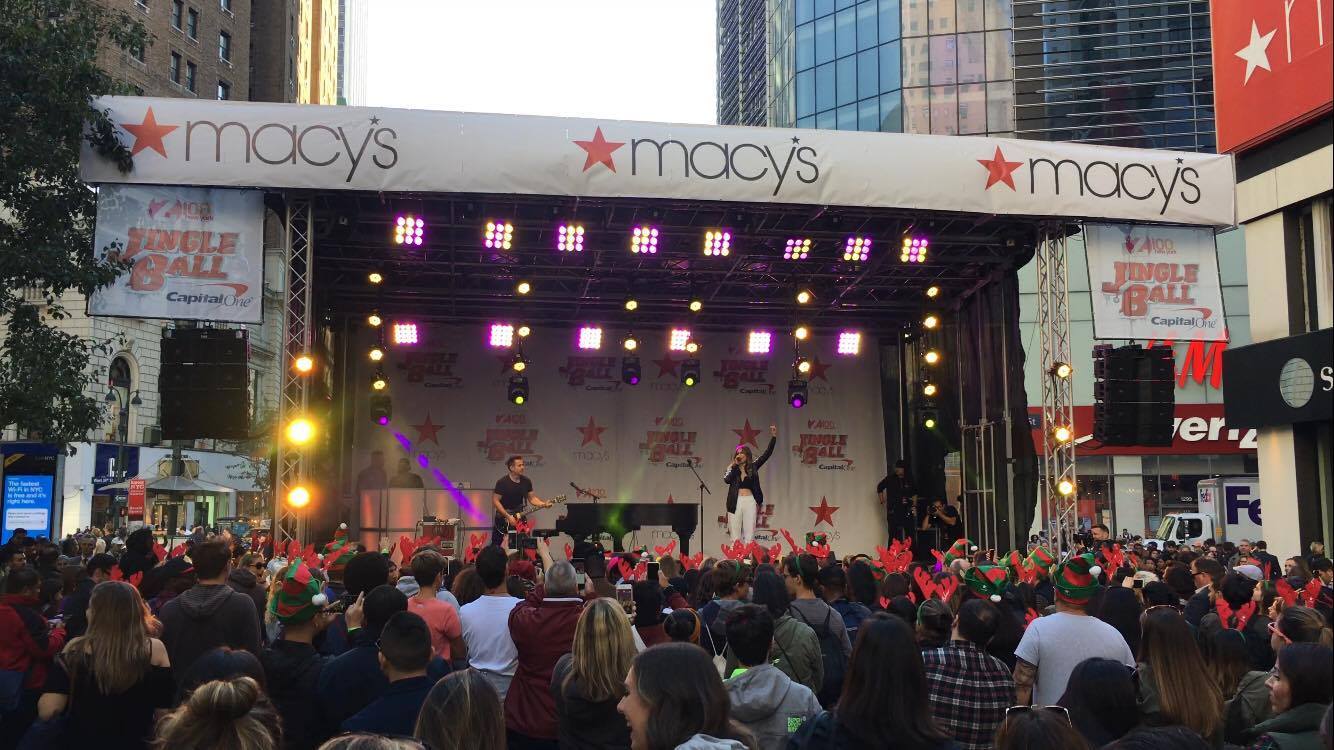 NEW YORK – Like the Macy's Thanksgiving Day Parade and Radio City Rockettes, the Jingle Ball Tour concert at Madison Square Garden has become one of the Big Apple's iconic holiday events. Pharrell Williams, Calvin Harris and Maroon 5 have performed at the annual show; so too have Selena Gomez, The Weeknd and One Republic. This year's concert will be just as diverse and star studded with Justin Bieber, Ariana Grande, The Chainsmokers, Meghan Trainor, Fifth Harmony, Ellie Goulding, Diplo, Charlie Puth, Lukas Graham, Daya, and Niall Horan scheduled to appear.
Although the concert takes place on December 9, the excitement for Jingle Ball started to build two months earlier with the announcement of the artist lineup. No ordinary press conference, the announcement is an entertainment event in its own right with special guest star performances, DJs from popular New York radio station Z100 pumping up the crowd and – in 2016– a fast-moving lightshow created by Angel Perez of Fine Quality Events that featured Core 3×3 panels from CHAUVET DJ.
Taking place outdoors in front of Macy's fabled Herald Square location on a sunny Tuesday afternoon, the announcement event drew a large appreciative crowd. Charlie Puth, whose debut LP "Nine Track Mind" reached No.21 on the Billboard charts, and Daya of "Hide Away" fame both appeared on the stage, their performances matched note for note by Perez's dynamic light show.
Perez used eight Core 3×3 panels on the stage, which was provided and set up by Mobile Stage of West Babylon, New York.  Flown on downstage truss and spaced evenly across the width of the stage, the pixel mapping COB LED panels were the lighting rig's main point of engagement with the crowd.
Using the panels for strobing, chase scenes and color washes, Perez relied on them to set a visual tone for the musical performances and on-stage announcements. "The Core 3×3 was awesome as crowd blinder effect," he said. "At the same time it created great eye candy with color changes and chases. We had some bright moving fixtures on our rig, and the Cores held their own in terms of brightness. Even during the daylight hours, they were more than bright enough to create the looks we wanted."
Perez also praised the Core 3×3 for being easy to work with. "The panels have power Edison out to connect to the next unit," he said. "That really made our set up a lot easier and saved us time. We wanted everything to go smoothly with this very popular event."
In the end, the Jingle Ball Announcement did indeed go smoothly, thanks in part to Perez's high octane outdoor lightshow, which earned rave reviews from the crowd gathered at Herald Square and gave them their first taste of the approaching holiday season.