CHAUVET DJ Intimidators Add Zest To Hanson's Performance at Brews and BBQ
September 2016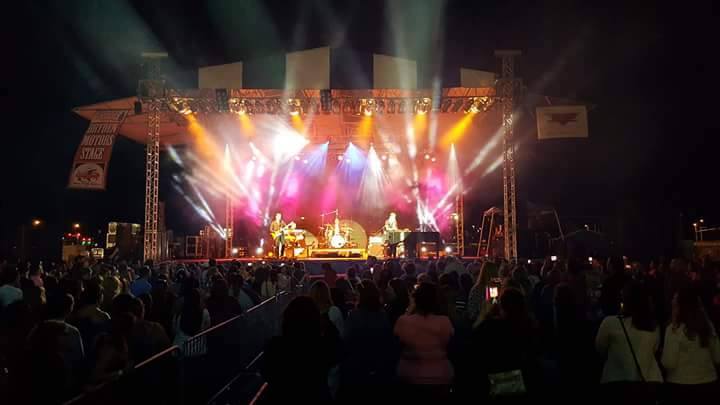 ROCKFORD, IL – After 20 years of performing, 16 million records sold worldwide, and eight Top 40 albums to their credit, pop icons Hanson have branched out into other endeavors. This includes forming a company to make their own craft beer, MMMhops, a play on their smash hit "MMMBop." No word on whether or not the group's suds were served at Brews and BBQ, an annual Labor Day gala at Rockford Speedway, but Hanson showed that even though they may have a few fingers in other ventures, their heart and soul are still planted firmly in music.
The group delivered a nonstop high octane performance at the speedway turned festival site. Keeping pace with Hanson step for upbeat step during Brews and BBQ was a fast moving eye-searing lightshow anchored by 20 Intimidator fixtures from CHAUVET DJ.
Lighting designers Jeff Hinton of 815 productions and Jared Borchardt of JBE, Inc. teamed up for this production, using 12 Intimidator Spot 255 IRC and eight Intimidator Beam LED 350 fixtures to create their punchy show. The duo flew most of their Intimidator Spot 255 IRC fixtures on two rows of overhead upstage truss, clustering them to either side of center stage. From these positions, the fixtures were used to hit the band with intense beams of differently angled light. At other times the fixtures were used to create two divergent patterns of audience and aerial lighting.
Also used to for aerial effects were the eight Intimidator Beam LED 350 units that were positioned in a straight line arranged along the upstage deck. Hinton and Borchardt created intense crossing patterns with these lights at key moments during the concert.
"I am very impressed with the Intimidators in general and what they allow us to do in a concert setting," said Hinton. "Without a doubt, I will be adding more Intimidators to my inventory in the near future."
Among the Intimidator capabilities that impressed Hinton (and that he and Borchardt used to great effect during the Hanson Labor Day concert) is the split beam capabilities of the Intimidator Spot 255 IRC. This feature, coupled with the 3-facet prism, allowed the designers to cover a large area of the spacious stage with a relatively small number of units.
The Intimidator Beam LED 350 also helped increase coverage of the stage through its frost filter. "We got some very big looks with the wide sweeping motions of the beam fixtures," said Hinton. "They had an impressive throw distance, and the colors and gobos really stood out."
Perhaps most impressive of all, though, was the intensity of the two Intimidator fixtures. Powered by 60-watt and 75-watt LED engines respectively, the Intimidator Spot 255 IRC and Intimidator Beam LED 350 delivered an intensely bright output that created a true concert atmosphere at the festival.
The Intimidator-dominated rig that worked so well for Hanson was equally effective the second night of the festival, creating power-packed looks for Quiet Riot. "There is a lot of good upbeat energy at this festival, so we wanted our show for Hanson and Quiet Riot to keep pace," said Hinton. From the looks on stage and the reaction of the crowd, the Hinton and Borchardt lightshow did that and more."