CHAUVET Illuminates Platforms Dance Club
April 2011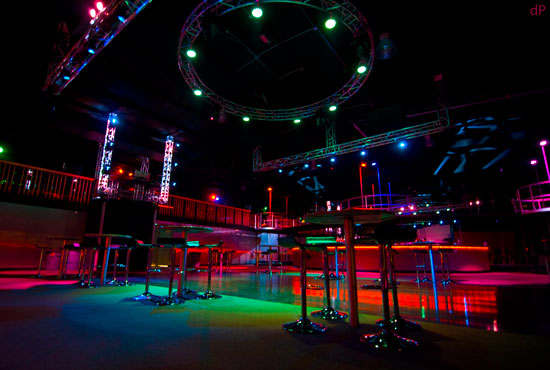 OCALA, Fla. – One of Marion County's most electrifying nightclubs is awakening the nightlife with its spectacular light show featuring 70 CHAUVET® lighting fixtures.
Platforms, an 8,000-square-foot dance club that opened last fall at the Ocala Entertainment Complex, features 20 LEDsplash™ 200B and 20 LEDSplash™86B wash lights, 14 Q-Spot™ 260-LED moving yokes and 16 Intimidator™ Scan LED scanners. The lighting is attached to 25-foot vertical and horizontal truss, as well as an 18-foot circular truss suspended in the air.
Lighting designer Roland J. Sosa of Advanced Technology Solutions selected and installed all the lighting fixtures. His vision for the all-genre nightclub included high speed moving heads and scanners, LEDs and vivid colors.
"A main factor for using CHAUVET® lighting was due to the large amount of LED fixtures available," Sosa said. "The owners did stress that they wanted cutting edge fixtures with the least amount of maintenance."
Sosa said the biggest challenge during this installation was time. Given only three weeks to complete the job, he and his co-worker, David Dennis, completed the entire installation in only two weeks.
"Dennis and I worked nights for two weeks to complete this enormous project which has been my favorite design so far," Sosa said. "I used CHAUVET® mounts for all the light fixtures which made the installation incredibly easy."
Pickles, the general manager of Platforms, is extremely happy with the success of the club. "People used to leave Ocala to go to big cities like Orlando and Tampa to enjoy the nightlife," Pickles said. "Between the light shows, concerts and all the other types of entertainment we offer, people are now leaving those big cities to come to enjoy our nightlife here in Ocala."

GEAR LIST:
20 x LEDsplash™ 200B
20 x LEDSplash™86B
14 x Q-Spot™ 260-LED
16 x Intimidator™ Scan LED
All photos courtesty of Demetri Photography