New at NAMM 09
January 2009
CHAUVET continues its commitment to the DJ and Band & Stage markets by introducing a number of new fixtures, four of which are
LED
retrofits of time-honored favorites.
The 4BAR™is a pack-and-go must have for DJs, bands and other performers who want a complete
LED
wash light system. The system consists of four lights, a foot switch, an adjustable tripod with its packing bag, and a transport case. Each of the four low-profile lights can be positioned independently. With 108 red, green and blue
LED
s per light, the 4BAR™ offers built-in automated and sound activated programs accessible via 15 channels of DMX control. The three-pedal foot switch triggers static colors or automated programs including RGB fades, blackout and sound-active modes.
The
Double Derby™ X
is a new
LED
version of the Double Derby™, which means no heat or the need for duty cycles. The
Double Derby™ X
comes in a lightweight case, but keeps the most popular features of rotating, crisscrossing beams that are now sound programmable.
Kinta™ X
is a step up from the
Double Derby™ X
with more lenses and thus more beams of light. The halogen lamp of the
Kinta™
has been replaced with
LED
s for a more efficient and brighter effect. Multiple units can be mounted in an array using the X bracket.
The
LED Mushroom™
is an updated
LED
version of the classic DJ fixture that comes in a lightweight housing. The
Double Derby™ X
and
Kinta™ X
and
LED Mushroom™
can be linked via master-slave.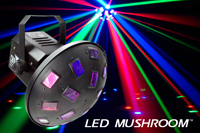 The
LED Pinspot
's compact size and light weight – less than one pound — will make this a DJ favorite. But it is not lacking in output. In fact, its single white
LED
is as narrow as or narrower than the traditional Pinspot, plus the
LED
beams have a higher color temperature and produce whiter beams.
The brand new
Intimidator™ Spot 150
and
250
are an expansion of the
Intimidator™
line. These new moving head units house 150- and 250-watt discharge lamps respectively. These fixtures keep the features that make this line a best seller – master/slave capability, sound activated programs, a variety of gobos and user-definable pan and tilt.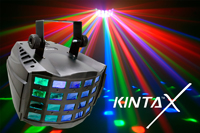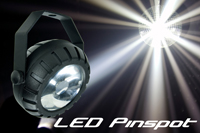 Also Check out our Brand New DJ/Club Catalog for 2009!