Dual is The Name of The Game for Intimidator Power
Posted on January 15, 2019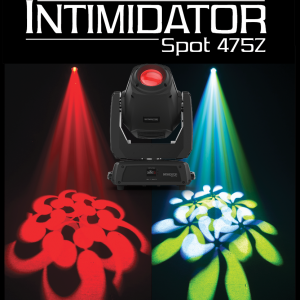 Intimidator Spot 475Z is the newest powerhouse addition to CHAUVET DJ's Intimidator Family. Fitted with an ultra bright 250 W LED and utilizing motorized focus for crisp projections, this moving head spot is sure to capture the next wave of event planners, mobile performers, and unique throw applications. One fixture; one powerful list of features! "Dual" is the name of the game for Intimidator Spot 475Z…
Dual rotating prisms ensure your light show achieves incredible visual effects by splitting the beam to create dramatic displays. Dual gobo wheels allow for gobo morphing and amazing mid-air projections at all venues. Get creative!
CHAUVET DJ HQ hosted Brent Schmidt of B Productions for his take on this new powerhouse intimidator. "Another thing I like about this fixture is the dual gobo wheels. In our theatre application, we are able to overlap two gobos on stage–so if we are doing something to either paint the backdrop or the floor of the stage, we are able to use both wheels." DJ Brent concluded with this summary of Intimidator Spot 475Z, "It's BRIGHT. It's POWERFUL. It's ROBUST. It's perfect for us."
Watch the full recap below.
Next, we welcomed a visit from Kevin Famoso of iDJNow. Kevin interviewed Geoff Short from CHAUVET DJ for an in depth guide to unpacking Inimidator's newest feature-packed moving head and asked the need-to-know questions for end users!
Kevin: The [Intimidator Spot 455Z] was incredibly bright…you guys went brighter!
Geoff: Absolutely; it's designed for large-scale events and just about any application you can imagine where you'd need powerful versatile control of a moving head fixture.
Geoff: It's got dual gobo wheels in it…But [Intimidator Spot 475Z] also has dual rotating prisms, so you can split those beams for some amazing visual effects–anything your imagination can dream of.
Kevin: The last version had one prism, so that's an upgrade there.
Kevin: I notice also, on the back, you've got a powerCON in & out.
Geoff: PowerCON compatible for locking power. This thing is secure and robust. The other thing is that it's MET certified. This fixture, Intimidator Spot 475Z, is perfect for installation purposes. It's got everything for anybody looking for [installation] might need.
Watch the full interview below.