GigBAR 2 is the ultimate pack-n-go 4-in-1 lighting system including UV in its wash lights and strobes for better color mixing and effects. GigBAR 2 includes two LED Derby fixtures, LED wash lights, a laser, and 4 high-power, LED strobe lights all mounted on one bar. The unit features phenomenal built-in automated and sound-activated programs including all 4 effects. You can easily control the unit from the display, IRC-6 remote control, wireless foot switch or DMX to take your gig to a higher level. Master/slave multiple units and save time running cables and extension cords by power linking multiple units. Get in and get out quickly with the included tripod, wireless footswitch and FREE carry bags.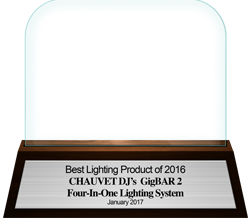 VIP Rewards Value: 600 Points
4-in-1 light that includes a pair of LED derbies, LED pars, a laser, and strobe effect all mounted on one bar

Added UV in pars and strobes for increased color mixing and effects

Cover any room or stage with 4 individually adjustable and interchangeable heads

Get in and get out quickly with the included tripod, wireless footswitch and FREE carry bags

Ready for every application using the included mounting brackets to attach to truss

4 high-power, LED strobe lights create exciting chase and slow motion effects

Adjustable red and green laser scatters hundreds of bright dots and beams in all the right directions.

Phenomenal built in automated and sound-activated programs that include all 4 effects to make one complete show

Easily control from the display, included IRC-6, wireless foot switch or DMX to take your gig to a higher level

Master/slave multiple units under the control of a single IRC or wireless foot switch

Save time running cables and extension cords by power linking multiple units

Complies with FDA performance standards for laser products except for deviations pursuant to Laser Notice No. 50, dated June 24, 2007.
DMX Channels:

3, 11 or 23

DMX Connectors:

3-pin XLR

Light Source:

(pars): 6 LEDs (Quad-color RGB+UV) 3.5 W (1 A), 50,000 hours life expectancy
(strobe): 4 LEDs (white & UV) 5 W (1.5 A), 50,000 hours life expectancy
(Derby): 6 LEDs (2 red, 2 green, 2 blue) 5 W (1.6 A), 50,000 hours life expectancy
650nm/100 mW (red) laser diode, 532nm/30 mW (green) laser diode

Strobe Rate:

(strobe): 0 to 18 Hz

Beam Angle:

(pars): 13°
(strobe): 8°

Field Angle:

(pars): 24°
(strobe): 18

Coverage Angle:

(laser): 93°
(Derby): 114°

Fits Tripod Size:

37.4 mm

Illuminance:

(pars): 1,205 lux @ 2 m (per head)
(strobe): 86 lux @ 2 m (per zone)

Power Linking:

8 units @ 120 V; 15 units @ 230 V

Input Voltage:

100 to 240 VAC, 50/60 Hz (auto-ranging)

Power and Current:

68 W, 1 A @ 120 V, 60 Hz
64 W, 0.5 A @ 230 V, 50 Hz

Weight:

25.6 lb, (11.6 kg)

Size:

1185 x 110 x 386.5 mm

Approvals:

CE, FDA, FCC

Stand Height:

1.5 to 2.5 m

Tripod leg width:

1.2 m

Foot Switch Operating Frequency:

433 MHz

Foot Switch Max Unobstructed Distance:

30.5 m

Footswitch battery:

12 V A23
What's Included
GigBAR 2
Power cord
IRC-6
Tripod
Tripod Carry bag
Wireless footswitch
Warranty card
User Manual
Read Our Review
4.8 out of 5 stars (based on 11 reviews)
Amazing!
Just bought this and love it! its amazing all it can do
Perfect for easy mobility and set up
A perfect addition for on the go djs that want to minimize set up time and maximize profits. These lights are light weight, easy to set up, and manage. I have two of these and they are set to sound in master/slave mode. They haven't let me down yet. The lights jump in perfect dance rhythm to the low notes. as one reviewer stated, however, the lights do go dark when there is no low/mid thumps hitting. this is the only downside to this awesome set. the lights cover a great portion of floor area especially used in pairs. with the right amount of tweaking/angling each light, you can get a great lightshow from them that will please the crowd. price wise, it is basically on par if you were to get each light and stand individually. so it was a no brainer for me. great product! now i am looking to add a gigbar move with these!
No buyer's RemorSe here!
I play drums for a local rock and roll band. As a Husband, dad, and physician, i have to maximize my time. The gigbar 2 requireS only a few minUtes to set up. I choose the "sound" mOde which allows the lights/laser to operate with the tempo aNd accents of each song. Gigbar 2 fills the room with amazing effects that draw many compliments and makes our band play better. A fog machine is a must to really bring out/accent the effects of this set up. I'm very pleased with my puRchase, and i find it really delivers an exceptional light show. I considered the price, but if one purchased these types of lights individually, they woukd pay much more.
quality over quantity
as a moblie dj, I've used my Gig bar 2 for over numerous events in the past two years and it keeps going strong. I've been to events where djs spend too much time setting up so many different light fixtures; yet the gig bar 2 is up and running in less than 5 minutes and will produce better effects. number two coming soon!!
Resetting Gigbar 2
This product is great and will purchase two more to link into a full dance floor experience. My only issue is that I can reset it to factory reset. Example: sometimes I use the all white Par setting for cocktail hour or speeches/toast at wedding, but now I can use the setting for some reason.
Response from CHAUVET DJ
Thank you for taking the time to provide your feedback! We're happy to hear that GigBAR 2 is a nice addition to your events. Regarding resetting to factory settings, we would need to know a little more information in order to help you with this — You can always contact our customer service team for any questions & assistance [email protected]!
Mobile DJ - Value!
I bought my first 'GIG BAR IRC' when they first came out. Then I bought a 'gig BAR 2' to go with it. They're running strong after 100+ events. I use wireless DMX dongles with THESE 2 INTERNALLY-DMX'D gig bars and setup time is less that 5 minutes for a complete show with all the basic effects on a 20X40 DANCE floor. I'll never go back to having to individually plug in and set up pars and derbys. However, controlling these lights is the best option, as the FOot switch is worthless (to me) and the "sound mode" leaves me wanting better results. Excellent product, I'm here to buy a third!
GREAT PRODUCT! Could use some tweaks...
let me start by saying I love this product. As a mobile DJ it is really nice to have something this dynamic that is portable and super easy to deploy. I really like the sound modes since I use Algoriddim Djay Pro, and there is no beat detection/ Output for DMX in that software that I am aware of. There is one flaw in the sound mode that really bugs me though. The mic is specially tuned to be more sensitive in the lower frequencies. Makes perfect sense. The problem is that if there is a break down in the song, or a quiet part where there is no bass or beat detected the light shuts off. If I set the sensitivity all the way up to compensate the light goes so crazy when the beat kicks in. A great improvement to the the next model would be a fallback setting, so if no beat is detected the light would default to a steady on or fade on the pars or derbys. Since this is my only light I am constantly having to change patterns in songs to avoid this shut off. Also, i think it would be a huge bonus if the pole mount was angle adjustable so that the strobes can be angled down. If I put the light up all the way to improve coverage (and get it up over my head Since it is right behind me) the strobes are pointed way over the people. Moral of the story, this is a great product. I might even add another down the road. However, this is really hard to make the only lights a dj uses. Having some other wash or uplighting to give some light in the room is a must.
Fantastic
Been using my Gigbar 2 for the last year as a mobile dj, and It has yet to let me down. It is perfect for every venue I have to go to, and I have received multiple compliments on the lighting set up.
Worth every dollar
I've been using tge gibBar 2 for about a year or Two now and i Am thinking of buying another one. Its so versatile and looks Great at events. If you're thinking about purchasing, do it.
THE ONLY WAY FORWARD
Transformation. Growth. Evolution. If nothing else defines the human experience, the simple action of change is at the very least our constant companion – or some would say, constant adversary. But this isn't a tale of adversity…one who truly is in tune with the nature of time and the universe around them realizes that the inevitability of change isn't something to be feared, rather it is to be embraced; for change is the mother to that ever-present and elusive light on the horizon called Growth. In nature, we see it in the larva transforming into a beautiful butterfly, or a majestic bald eagle hatching from a nondescript egg. Stanley Kubrick illustrated this phenomenon as a giant stone monolith in his cinematic classic "2001: A Space Odyssey" – that moment where there's a fork in the road, and by happenstance or divinity (or some measure of both) we are pushed in the only direction that was ever truly an option…. …Forward. This concept not only exists in nature, but in really anywhere you might look – and humanity, like nature, has embraced it in it's own creations. Think of film – The Empire Strikes Back vs A New Hope, The Dark Knight vs Batman Begins, House Party 2 vs House Party, The Godfather II vs The Godfather. The evolution of an idea, the sequel, is as ubiquitous of a concept as film itself in this content-driven day and age that we currently occupy, and really who should be surprised? Who among us would argue with evolution? With progress? Dear reader, rest assured that the minds at Chauvet are not those who would do any such thing. Rather than rest on their laurels, they've given the push at that proverbial fork in the road. And let me assure you….they have pushed in the way that the invention of the wheel or the harnessing of fire or electricity once pushed our ancestors. By themselves evolving, they've pushed us to evolve along with them. That evolution comes in the form of the Gigbar 2. Admittedly, my years of pro-level touring have made me skeptical of many consumer-grade lighting setups in the past…the build quality, look, and overall performance of so many of these pieces of gear have always seemed to leave me wanting. And really, how could a small handful of par cans on a stand barely taller than a door frame compete with the fully immersive visual experience of being in a large concert venue with a full blown lighting array, controlled by a seasoned pro? But like Kubrick's monolith, once the Gigbar 2 towered before me, my very existence was irrevocably changed. And luckily, it brought my band and our clients along for the ride. From the last performance before owning the Gigbar 2 to the first one with it, the difference was immediately palpable. After the stage was set, the ambiance in the room – once peaceful, carefree, but ultimately defined by the kind of polite indifference that leaves an objective bystander checking their phone and wondering what might be new on Netflix – was transformed into a panache-filled anticipation of what wonders the night may hold. Inhibitions were immediately loosened and all present were filled with the kind of wonderment that one could imagine was instilled in early species of humanity as they gazed at the distant horizon, or the night sky. …and this was all before the music even began. After we started playing, much like the butterfly emerging from it's cocoon, the audience's transformation was complete. In our band, we were used to polite crowds – everyone attentive and enjoying themselves, but maybe only one or two people present really cutting loose and giving into the music and experience of the night. On this particular excursion, we were received with a reaction somewhere between the unbridled joy of the citizenry of a newly liberated nation and the complete excess of a Roman orgy. People were on stage with us, singing along to every word, dancing on tables – even the elderly present were forced by that primal joy in all of us to rise to their feet and join in the party. The audience weren't the only ones positively affected by the Gigbar 2 – as a band, we never sounded tighter. The air seemed sweeter and food tasted better after we raised that monolith of lighting evolution. The night was punctuated by an audience member tripping over our mixer and knocking it and herself right off the stage as a result – but the Gigbar 2 remained high above it all, like a beacon from a lighthouse, guiding all of us present to the shore of our innermost desires and happiness. This night forever changed me, and everyone else in my band. Once the Pandora's Box of the Gigbar 2 had been opened, none of us wanted to so much as appear in public without one behind us again. Benjamin Franklin once said "Without continual growth and progress, such words as improvement, achievement, and success have no meaning" – dear reader, rest assured that the Gigbar 2 is the very embodiment of growth and progress, and now that it's here, there is no turning back. Let's all evolve together…with the Gigbar 2 lighting the path forward.