CHAUVET DJ Honored With 8th Straight Lighting Line Of The Year Award
January 2021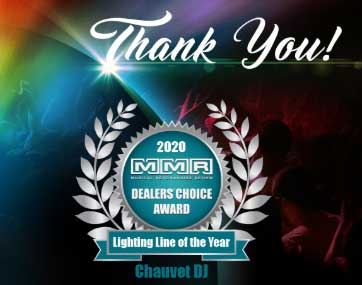 SUNRISE, FL – CHAUVET DJ continues to be the shining star in its industry, winning its 8th consecutive Annual Dealer's Choice Award as "Lighting Line of the Year." Sponsored by MMR magazine the awards, now it their 28th year, are determined by voting from dealers across the United States.
In announcing the award, MMR wrote: "In a challenging year that saw so many live events brought to a halt, CHAUVET DJ kept lighting the way for musicians, venues, companies, and events who craved to get crafty and keep the entertainment flowing. Their eighth consecutive win in this category solidifies their status as solution-finders for unique lighting situations across the globe."
Even in the midst of a raging pandemic, CHAUVET DJ continued to introduce innovative, creative, and value-driven products in 2020. Products like D-Fi XLR, Intimidator Beam Q60, and EZPin Zoom Pack inspired artists to keep lighting whatever events they were able to do and to look forward to a brighter 2021 armed with the latest lighting technology products.
"We have been so inspired by our dealer partners and entertainers who have refused to be silenced by the pandemic" said CHAUVET DJ Global Brand Manager Geoff Short. "This award is even further inspiration for us to continue the hard and rewarding work of lighting the way to a fully recovered event industry. Stay tuned for some exciting things in 2021."