CHAUVET DJ UNVEILS NEW FOUND FREEDOM AND MORE AT NAMM 2023
April 2023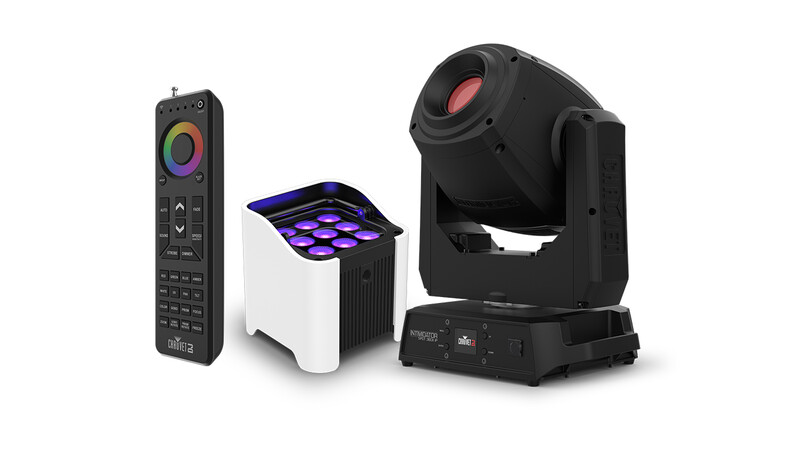 ANAHEIM, CALIFORNIA – CHAUVET DJ will introduce a powerhouse collection of new lighting products at Booth 11820 at the 2023 NAMM Show April 13-15 at the Anaheim Convention Center. The new offerings are packed with a dizzying array of innovative features to make lighting celebrations and other events easier and more powerful than ever before. The new products are highlighted by a sweeping reintroduction of one of the brand's biggest product lines – Freedom, the industry's most popular line of 100% TRUE wireless battery-operated lights. CHAUVET DJ visitors will also experience an innovative remote control with cutting-edge technology to wirelessly operate new RF-enabled products, a new outdoor rated moving head fixture and an exclusive preview of thrilling products debuting in the coming months including a new hardware controller for the Integrated Lighting System (ILS), and a new battery-operated moving head with built-in wireless DMX on board.  A full ILS system will be demonstrated as well as a dazzling display of CHAUVET DJ's revamped line of moving heads, the Intimidator X series.
CHAUVET DJ reintroduces the industry's most trusted line of 100% TRUE wireless battery-operated wash lighting – Freedom – with a completely new line of products packed with new features.  Four new pars make their debut, all with improved color mixing, RF compatibility, full-text OLED menu readouts, included magnetic diffusers for beam angle adjustments, and an improved kick stand for precise height angles.
Every Freedom par product in the new line features a full complement of potent new features and improvements including the familiar built-in D-Fi transceiver for wireless DMX operation, and also a built-in RF receiver for wireless control using the optional RFC or RFC-XL remotes from anywhere in the event space. New secondary optics in these new units provide perfect color blending with nearly no artifacts. The full-text OLED readout on the menu makes changes and adjustments even easier and adjustable run times ensure the fixture will last the length of almost any event. Each light comes with a magnetic diffuser that pops on or off with ease to adjust the beam angle. A new spring-loaded kickstand makes fine adjustments in the light angles possible.
Small and mighty, Freedom Par T6 takes tri-color (RGB) color mixing to new levels of visual brilliance in an ultra-compact and lightweight package.
Freedom Par Q9 is a quad-color (RGBA) LED uplight and is available in single units or in the Freedom Par Q9X4 that includes 4 lights and a charger in a protective carrying case. Freedom Par Q9 packs a potent lighting punch in a new small and light size.
Freedom Par H9 IP is a hex-colored (RGBAW+UV) par in a compact form factor. The light's IP rating and robust housing repels mother nature for temporary outdoor situations to give you Freedom lighting power rain or shine. Freedom Par H9 IP can be purchased in single units or in the Freedom Par H9 IPX4 that includes 4 lights and a charger in a protective carrying case.
Freedom Flex H9 IP X6 is a complete lighting package including six hex-colored (RGBAW+UV) lights in a charging road case that simultaneously charges up to six swappable batteries that ensure the fixtures are always ready to go. Freedom Flex H9 IP fixtures are ready indoors or out with robust housing that repels the elements for temporary outdoor situations.
Versatility is the hallmark of Freedom products. Now, that versatility reaches new heights with white overlays that can transform units from black to white to blend them into surrounding décor, light or dark. Freedom Par 9 Sleeve X 4 is a 4-pack of sleeves that fit snugly over Freedom Par Q9 and H9 IP fixtures. Freedom Flex 9 Sleeve X 6 is a 6-pack of sleeves that fit Freedom Flex H9 IP fixtures. Sleeves easily slide on and off with the click of a button.
Freedom Charge 8P is a rolling transport case that charges up to 8 Freedom Par fixtures simultaneously.  Its high-strength polypropylene material is water-resistant and resistant to damage and its custom molded interior ensures a damage-free transportation experience. Fixed cable leads plug directly into fixtures without needing individual power cords. Rugged wheels and a telescoping handle make transportation stress-free while multiple child-resistant latches with the ability to add padlocks reduce unwanted intrusions.
CHAUVET DJ also introduces two new RF remote controls that are omnidirectional and don't require line-of-sight operation for compatible RF-enabled lighting fixtures. RFC, a palm-sized remote and RFC-XL that provides unprecedented lighting control power in the palm of your hand.  RFC-XL works with different fixture types such as washes and moving heads and controls up to 4 different fixture groups simultaneously. Rubberized and backlit buttons ensure they are accessible in dark environments and the telescopic antenna ensures the signal reaches its destination.
CHAUVET DJ's Intimidator X series of moving heads will be on full display at the company's booth. The newest member of the Intimidator X series is Intimidator Spot 360X IP, an outdoor-rated moving head that lets you bring the power of Intimidator outdoors and is designed for situations where mother nature has different plans for your events. It has a built-in RF receiver for wireless control using the RFC or RFC-XL optional remotes. The water resistant TRUE1 power input/output connections save setup time. Like all Intimidator X fixtures, a new home position for the head prevents whip around movement when programs are triggered and dual rotating prisms split the beam for great effects and cover a larger area. The power of Intimidator Spot 360X IP is multiplied with motorized focus that lets you project crisp gobos from nearly any distance and beams always remain on the dance floor using the built-in, innovative Totem mode. You can even set, save, and recall 1 scene manually, directly from the full-color LCD display.
CHAUVET DJ's Integrated Lighting System (ILS) is cutting-edge technology that allows users to create synchronized light shows across different fixture types either wired or wirelessly. NAMM visitors can experience a full ILS system including GigBAR Move + ILS, the center of the ILS eco-system that currently controls the system.
Taking the power of your GigBAR anywhere is easier than ever with CHS-GBM a Hard-shell case designed to efficiently transport a GigBAR from show to show. The case is made of high strength polypropylene material and is resistant to water and the rigors of the road. CHS-GBM has dedicated space for the fixture, tripod, foot switch, RF remote and multiple DFI-USB and DFI-XLRs so there is no part of your GigBAR rig you can't take with you. The custom molded interior ensures a damage-free transportation experience and built-in wheels make movement stress-free. Rugged piano hinges allows the lid to remain open without falling down.
Attendees will also get a glimpse into the future with a sneak-peek at other exciting products coming including control and battery-operated products.
"We're really excited to introduce these new products to our users while we're at NAMM", said CHAUVET DJ Senior Product Manager Allan Reiss. "The launch of the new Freedom line is one of our largest and it reinvigorates one of our most popular product lines, but we're confident that all our new introductions will excite lighting users as they discover the new levels of lighting power and convenience we're bringing to the market."