Cygnus Lighting Transforms Knuckleheads Bowling Center With CHAUVET DJ
November 2016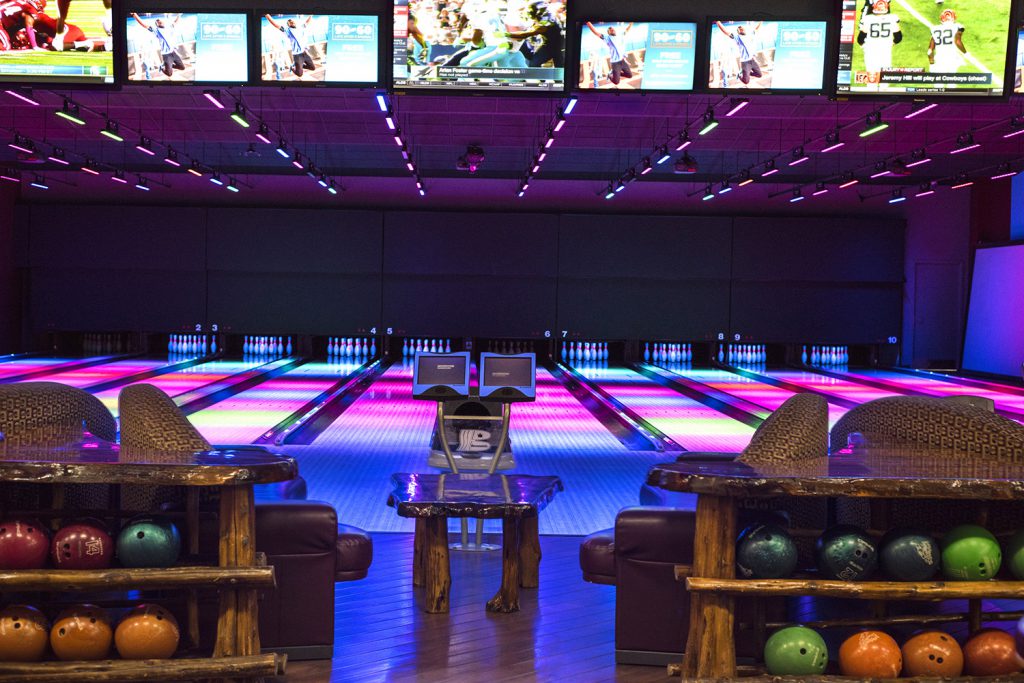 WISONSIN DELLS, WI – There aren't many towns of 1,200 that attract over 4 million tourists a year, but then few things about Wisconsin Dells are ordinary. Billing itself as the "Waterpark Capital of the World," this rural hamlet is home to 20 waterparks, including the largest in the United States. For drier fun, there's also go cart racing, safaris, skydiving and similar attractions.
Knuckleheads Bowling and Indoor Amusement Park fits right into the fun-filled spirt of Wisconsin Dells. Measuring 80,000 square feet, it offers tourists and locals alike a chance to escape, with bumper cars, trampolines, virtual reality games, 4-D movies—and, oh yes, bowling. Ensuring that its bowling lanes keep up with its other attractions, Knuckleheads illuminates them with an ever-changing richly colored lightshow created by Tracy Roudebush using 80 COLORband H9 USB fixtures from CHAUVET DJ.
Roudebush, owner of Cygnus Lighting, and Greg White, owner of Madison Pro Audio, put together the upgrade project at Knuckleheads, which resulted in eight of the RGBAW+UV wash fixtures being installed over each of the bowling center's 10 lanes.  The fixtures were clamped to the beams of the metal frame building and spaced evenly down each of the 60' lanes.
"Positioning the fixtures was critical to get the exact spacing we needed to ensure even lighting," said Roudebush.  "A lot of credit for this goes to Dustin Bohn, maintenance manager of Knuckleheads. Dustin came with the system of placing temporary laser lights on the ground and shooting them up into the ceiling so we'd know where to attach the clamps."
The length of the linear COLORband H9 USB (it measures 39.4 x 2.2 x 6.6 inches, 1000 x 56 x 168 mm)), also made the fixture well suited for providing even coverage across each lane, as did its 21° beam angle and the bright output (2,254 lux at 2 meters) from its 9 high-output 7-watt LED engines.
Roudebush linked the fixtures using DMX cables and two splitters. Control is provided by an LSC Clarity package. After tutorials by Roudebush, the Knuckleheads staff has become skilled at continually changing lightshows at the bowling center. Using the COLORband H9 USB's three zones of control and built-in programs, Knuckleheads creates dynamic chase effects that run across the bowling lanes.
During different holidays, the staff uses the COLORband H9 USB to create seasonal images over the lanes. Team colors of the Green Bay Packers and Wisconsin Badgers are also displayed, particularly during football games. Regardless of which images are shown, the COLORband H9 USB, with its ultra violet diode, is capable of rendering them in very rich and natural looking colors.
"The COLORband H9 USB seems like it was made for this project," said Roudebush. "It's affordable, its size is perfect and it creates looks that really transform the bowling lanes and make them an entertainment center – not just with great colors, but with the variety of different scenes.  You could say that the entertainment bar is set very high at Wisconsin Dells; these fixtures have definitely helped Knuckleheads bowling center keep up."