Tom Sutherland Gives MTV Wonderland Set Varied Looks With CHAUVET DJ
February 2017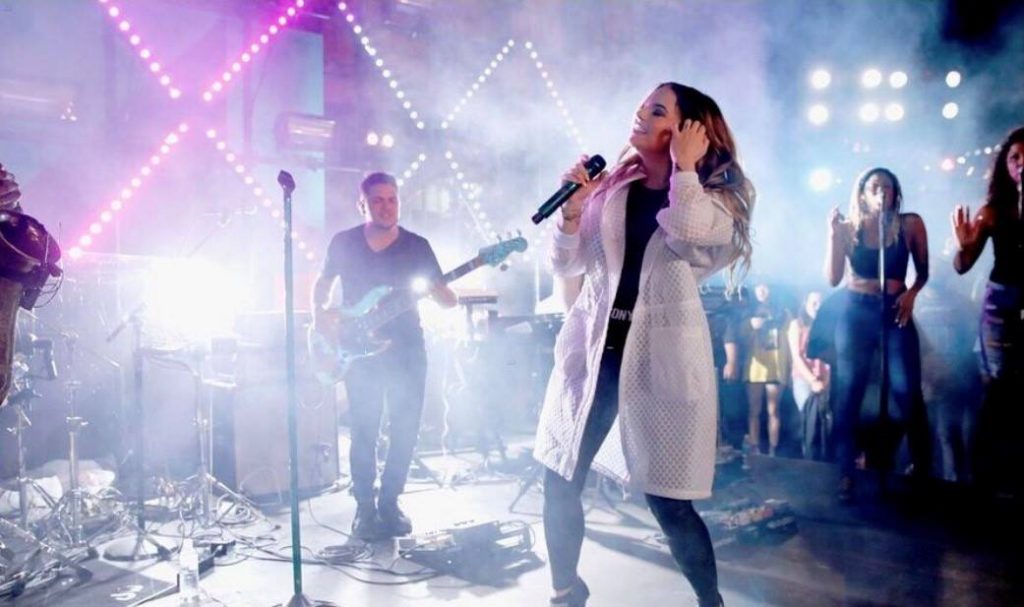 LOS ANGELES – On August 1, 1981, MTV made history when it became the first network in the world dedicated to broadcasting music videos. For years, the home of celebrated "video jockeys" like Nina Blackwood, Mark Goodman and Martha Quinn was the center of all things musical. Then, as new digital competition arose, MTV moved away from its original format and replaced its music programming with reality shows like Jersey Shore and serial dramas like Teen Wolf. Now it's back to the future, as MTV is rediscovering its musical roots with the debut of the new series, Wonderland.
The first live music program on MTV in almost 20 years, Wonderland was shot before a general audience of approximately 1500 on the Imperial Arts Studio site in downtown Los Angeles.  Major artists Tinashe, Ty Dolla $ign, Mo, JoJo, Sleigh Bells, Mac Miller and Steve Aoki (to name a few) appeared on the program to showcase new music. Wonderland's set, which had the vibe of an urban music festival, changed constantly during its just concluded first season. Facilitating this change and adding an air of excitement to the proceedings was a dynamic and flexible lightshow created by Tom Sutherland of DX7 Design that drew upon the color rendering power of 16 COLORband Pix USB batten fixtures, as well as 16 COLORdash Batten-Quad 12 linear wash fixtures from sister company CHAUVET Professional.
Sutherland and his programmer Craig Caserta used 16 of the pixel mappable RGBA fixtures to create a variety of looks for Wonderland. From episode to episode, they arranged the 41" x 3.2" x 6.5" (1041 x 82 x 164 mm) fixtures in different configurations. They also programmed different sequences on the fixture's individually controllable LEDs and created a variety of different color washes to help give each episode its own distinct look.
"We had three performances spaces on the set: the outdoor courtyard, the brothel and the bar," said Sutherland. "Each space had to feel unique and evolve from week to week. The bar was pretty much a set in itself, so we didn't have to change that up very much, but we did change the look of the brothel and courtyard every week, and the COLORdashes played a key role in helping us create these changes."
To illustrate how the COLORdash Batten-Quad 12 helped his design team give the set distinctive new looks, Sutherland recounted how the fixtures were used on two episodes. "In the outdoor courtyard we positioned the battens in a diamond shape with a strobe in the middle, on the particular week when we had pop act JoJo perform there," he said. "This really helped add energy and color to her performance. Then on another week we made a wall of the battens in brothel area for Steve Aoki and filled the room with haze. By doing this we managed to get some fantastic beam effects out of the COLORdash battens, which really helped us with the EDM vibe.
"Overall our big challenge was to change things up every week to keep the audience involved and engaged," continued Sutherland. "I never wanted people to see the same lightshow twice." Toward this end, the designer got more looks out of his rig by adding the 16 COLORband Pix USB batten fixtures. These linear units were moved throughout the set, joining the 500-plus par washes and ACL fixtures, a variation of moving heads and COLORdash Batten-Quad 12s already in the lighting rig.
Another challenge, according to Sutherland, was to transform an entire block of downtown Los Angeles every Thursday night to make it look like the site of a music festival. "The first time we saw any of our outdoor lighting effects come to life was when we were live on air," he said. "We would only rehearse in the sunlight with the artists, so watching the performance come alive when it went dark was nerve racking but also very exciting!  I could never have done it without a great team, which in addition to Craig Caserta, included Jason Mack, who was my second programmer, and Don Winters, my gaffer, along with his team. They were all amazingly flexible going with all of our changes week to week."
In the end, though, Sutherland and his team succeeded in creating a cornucopia of fresh looks for Wonderland, a show that helped MTV and its audience rediscover the joy of broadcasting music.