CHAUVET DJ At PLASA London 2014
September 2014
LONDON, UK – CHAUVET DJ will exhibit at PLASA 2014, taking place at ExCeL from 5th-8th October.
Check out exciting new innovations from CHAUVET DJ including the Intimidator Spot 355Z IRC and the Intimidator Wave IRC; the wireless pin-spotting solution, EZpin IRC; additions to the sensational Freedom series of wireless battery-powered par fixtures; and FlareCON Air – a device that transforms your smartphone into a wireless DMX lighting controller.
From CHAUVET DJ's popular Intimidator series, the Intimidator Spot 355Z IRC is a brilliantly bright moving-head light with motorised focus and zoom for crisp gobo and beam changing effects. Seven already installed gobos plus the wedding 6-pack give you plenty of options for creating a unique look for every event. Master/Slave mode lets you create a beautiful light show quickly and easily. Built-in automatic programs along with move-in-black capability make programming with a CHAUVET DMX controller as easy as can be.
The Intimidator Wave IRC is a magnificent moving light array with 5 independently controlled heads that project narrow, razor-sharp beams of lights. Each moving head has a bright quad-colour LED for infinite colour-mixing capabilities. The Intimidator Wave IRC can be operated with the control panel, or the optional CHAUVET IRC-6 remote control. Up to 4 Intimidator Wave IRC lights can be linked together as one to create stunning coordinated effects.
CHAUVET DJ continues its wireless revolution with the EZpin IRC, a battery-powered pin spot with optional remote control. The new LED product makes it easier than ever to pin spot centrepieces or any other focal point at any venue without worrying about power draw or the availability of electric outlets. Compact yet ruggedly built, the EZpin IRC is extremely versatile and can be positioned in a variety of places. DJs and other end-users can create different looks with the EZpin to fit the mood of different occasions by using a variety of gels. Aside from being an attractive starter pin-spotting package, the value-driven kit also provides a cost-efficient way for mobile entertainers to build their existing lighting rigs with a go-anywhere, do-anything pin spotting solution.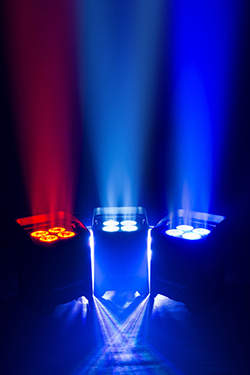 Three new models have been added to CHAUVET DJ's popular Freedom series of wireless battery-powered par fixtures: Freedom Par Tri-6, Freedom Par Quad-4, Freedom Par Hex. An RGB, RGBA and RGBAW+UV unit respectively, these powerful LED wash fixtures combine intense output with smooth colour-blending. True to their name, they can be set up virtually anywhere — no cords or cables required. Taking wireless freedom a leap further, these new models, as well as the original Freedom fixtures, are compatible with the FlareCON Air interface, allowing users to control them via a smartphone or tablet.
Furthermore, don't miss the opportunity to find out more about TRUSST, backed by Chauvet, a brand which offers trussing, clamps, and presentation solutions that add elegance and impact to events and productions, TRUSST products are perfect for mobile DJs, bands, outdoor performances and nightclubs.
Visit CHAUVET DJ on stand P80 to get your hands on the latest products.