Chauvet Names Music Technology SISTEMA Distributor of CHAUVET DJ Products in Italy
March 2023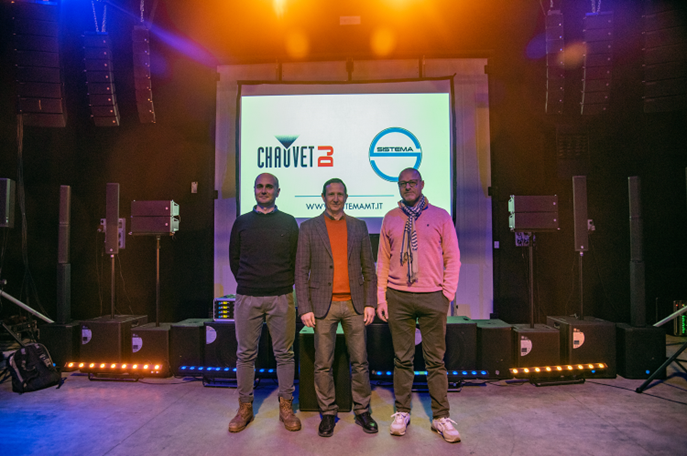 SUNRISE, FL – Chauvet has taken a significant step to meet the growing demand for its DJ products in Europe. The company has named Music Technology SISTEMA distributor of the entire CHAUVET DJ line in the Italian market.
Founded in 2016, Music Technology Sistema is motivated by the same customer service philosophy that has driven Chauvet's impressive growth record. "The two companies are cut from the same cloth," said Stéphane Gressier, International Sales Director of Chauvet. "We are both totally committed to excellence."
Music Technology SISTEMA has two divisions: Music Technology, which designs and programs solutions for systems integrators, architects and other customers, and SISTEMA, which distributes to resellers. The company is positioned not only to distribute products, but also to support them with excellent technical services.
Alessandro Rimelli, SISTEMA CEO and Davide Fabbietti, the company's CMO say they are looking forward to offering customers the CHAUVET DJ Integrated Lighting System (ILS) that allows end-users to create coordinated wireless lightshows at the push of a button, as well as exciting award-winning product series like EVE and CORE.
"We are particularly proud to support excellent lighting solutions from such a highly regarded brand as Chauvet DJ," said Rimelli. "We look forward to contributing to this brand's growth in Italy."
Seconding this sentiment is Fabbietti who said, "CHAUVET DJ is one of the most competitive manufacturers in the lighting world, in constant evolution with ever more user-friendly solutions. With this new line of products we are going to offer another important resource to all our customers."
Antonio Parise EMEA BDM at Chauvet expressed confidence in the new distribution arrangement. "I have been feeling very positive since I first met Alessandro and Davide" he said. "Their dynamic and professional skills merged with super organization of SISTEMA and the wide range of products of Chauvet DJ will rapidly grow our business in the Italian market."
Goran Doncic, Senior European Business Development Manager of Chauvet, summed up the overall sentiment surrounding the agreement. "In the end success in business is based on good people," he said, "and that is what we have here."