CHAUVET DJ Debuts INfectious Products at NAMM 2012
January 2012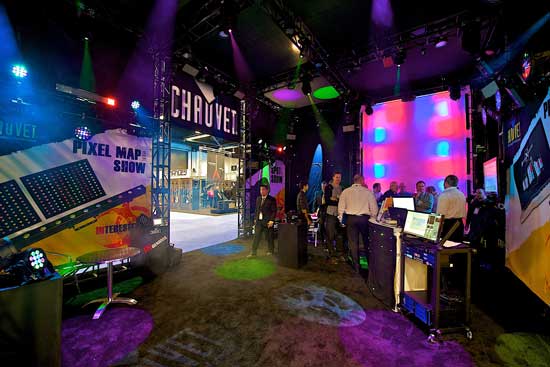 CHAUVET® DJ announced the release of nearly 20 new products at The NAMM Show. Contagious products INfected attendees including the new PiX™ family of pixel mapping fixtures and new additions to the Intimidator™ family of scanners and moving heads, as well as the Scorpion™ family of high-powered lasers.
Pixel-mapping technology adds dimension and eye-candy to shows making it a must-have effect for the mobile DJ or club installer looking for high impact visuals on a budget. The new PiX™ series is comprised of the PAR-style PiXPar™ 24 and PiXPar™ 12 wash lights as well as the linear COLORband™ PiX and COLORband™ PiX Mini fixtures. Use the new version of ShowXpress™, now featuring pixel control, to easily generate and manage intricate light shows using your computer or smartphone.
Other eye-catching effect lights making their debut include Mega Trix™, 4BAR™ Flex and Minisphere™ 3. New additions to the lineup of high-powered lasers include Scorpion™ Storm FXGB, Scorpion™ Storm FXRG, Eclipse™ RGB and MiN™ Laser RBX.
The Intimidator™ family also expanded by adding the Intimidator™ Barrel LED 300 scanner as well as Intimidator™ Spot LED 250 and Intimidator™ Spot LED 350 moving heads.
The CHAUVET® DJ booth also featured Nimbus™ dry ice machine, battery operated Freedom™ Par and Freedom™ Strip Mini, SlimPAR™ Tri 7 IRC and SlimPAR™ Tri 12 IRC wash lights.
Perfect for any event, Nimbus™ is a professional dry-ice machine that produces a thick, white fog that hugs the floor. The Freedom™ series is comprised of two battery-operated fixtures designed to liberate mobile entertainers from the hassle of tangled power cords and control cables. SlimPAR™ Tri 7 IRC and SlimPAR™ Tri 12 IRC are low profile, high-power LED wash lights powered by tri-colored LEDs to eliminate multicolored shadows and project a smooth, even output.