CHAUVET DJ Intimidators Add Punch To Dolly Parton Show
May 2015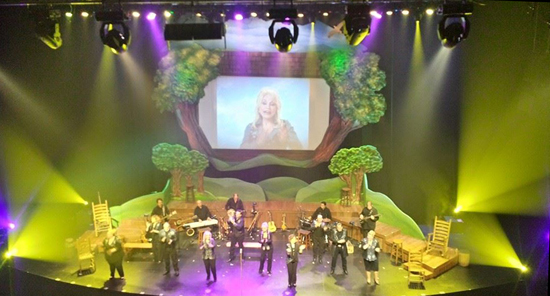 PIGEON FORGE, TN – When well-known lighting designer Susan Rose was asked to add an extra level of visual excitement to country legend Dolly Parton's popular My People show, she called on the Intimidator Beam LED 350 from CHAUVET DJ. Rose was not only drawn to the fast movements, brilliant output and sharp 4° beam angle of the moving fixture, it also helped her meet the requirements of a tight budget and tighter stage space.
The newest Dolly Parton show took place at the theatre in the singer's namesake Dollywood Theme Park. Part of the charm of this venue is the warm, down-home feeling engendered by its relatively small size. Although this intimacy is popular with fans, it creates special challenges for lighting designers. The high output and compact size of the Intimidator Beam LED 350 helped Rose meet this challenge by allowing her to create a big aerial beam look using only four of the fixtures.
"Shooting the stage beams in the air really worked very well to give the show a more dynamic look," said Rose. "Everyone was very pleased with the production value of the lighting."
By shooting brilliant and intense beams from the stage floor, the four Intimidator fixtures complemented the overhead wash light from four Q-Spot 560-LED moving yoke units from CHAUVET DJ's sister company CHAUVET Professional.
"The director wanted to punch up the stage lighting for this show and give it a more theatrical touring kind of look that was less soft than what you normally see at this venue," said Rose. "I was excited to do this with a lot of aerials and beams, but space was a factor given the size of the stage. I turned to Chauvet for LED fixtures that could give me this excitement without taking up a lot of space or drawing a lot of power."