CHAUVET DJ Works Magic with Penn Jillette
March 2015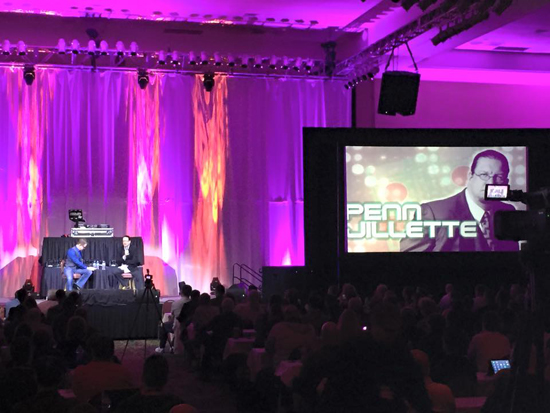 LAS VEGAS – As the taller half of the superstar Las Vegas magic team of Penn & Teller, Penn Jillette is a master of illusion, but there was nothing chimerical about the magical lighting effects from CHAUVET DJ that illuminated his performance at the Mobile Beat Show.
Rather than "catching bullets," escaping from helium bags or doing any of the other astounding and comedic tricks that have made him and his partner Raymond Teller world famous, Penn showed a more serious side to the Mobile Beat audience, recounting the journey that led him to become half of one of the longest running acts in Las Vegas history. Displaying the unique brand of humor that has made him beloved from Las Vegas to London, he shared his thoughts about music, magic and the lessons both hold for DJs.
Penn appeared as part of The Entertainment Experience at the Mobile Beat Show in Las Vegas on a stage that was illuminated exclusively by CHAUVET DJ fixtures, including 12 Intimidator Spot 355Z IRC moving spots, 15 Intimidator Wash Zoom 350 IRC moving fixtures, 4 Intimidator Wave IRC fixtures, two Scorpion Dual aerial effect lasers, 2 Geyser RGB foggers, 4 SlimPAR Hex 6 IRC LED pars and 2 Hurricane Haze 3D haze machines.
"It was an honor to have our lights on stage with this legend," said Berenice Chauvet, vice president of Chauvet. "With the rich colors, rapid movements, sharp beams and intense output, our fixtures provided the right mix of elegance and excitement to the stage and contributed to this being a stellar event."