Chauvet Lights KICC Prayer City
June 2013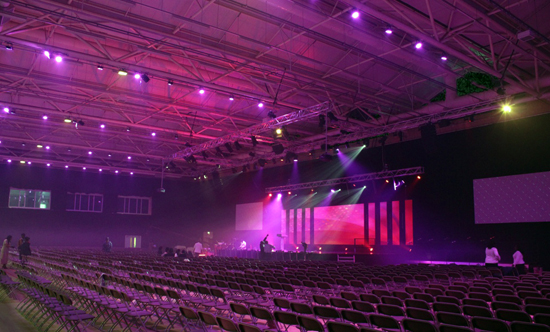 LONDON, U.K. — About 120 Chauvet fixtures light up Kingsway International Christian Centre, a south-east London 20-acre facility that can house 15,000 parishioners on an event night.
Phil Adlam, owner of Rock-Tech events solution company, created the lighting design and specified 82 CHAUVET DJ SlimPAR Pro RGBA wash lights, 24 CHAUVET DJ COLORband PiX battens, six CHAUVET Professional Q-Wash 560Z-LED fixtures and six CHAUVET Professional Q-Spot 560 LED moving yokes. "The church staff initially was looking for a 'X-Factor'-style design, since this is also an events and concert venue," Adlam said. "There are various churches around London and this is the largest one."
The SlimPAR Pro RGBA fixtures are used for house lighting throughout the entire venue. Sixty serve as down house lighting, while 22 wash the stage. "The SlimPAR Pro RGBA are excellent," Adlam said. "They're silent, low-maintenance, reliable, light weight, and the color rendering on the RGBA is very good."
The Q-Wash 560Z-LED moving yokes project mid-air beams and dynamic gobos on stage. "I've used a lot of different wash products, but the Q-Wash™ 560Z-LED is my favorite," Adlam said. "It's great value; for the price of one Robin you get four Q-Wash 560Z-LED. But even on a one-to-one comparison, the Q-Wash 560Z-LED is just as bright. The zoom functionality is fantastic, and the color rendering is excellent. It's very versatile and reliable. I consider it one of the best wash lights available."
Adlam also had to consider the broadcasting factor during an event. "The venue is a giant TV studio," he said. "In terms of positioning we used the battens to create excitement on stage, and carefully located the rest of the wash lights to ensure a great look on TV, whatever the camera shots."
The design is centered around the 15-meter LED screen, as it goes in the back of the venue, 50 meters wide by 65 meters deep. The rear half is divided into two levels. "Sight lines have been a real challenge. We had to fit in a complete production that worked for both levels, whilst making sure the people at the very back can see the stage," Adlam said.
COLORband PiX pixel-mapping battens are used for the front of stage, and lighting the musicians, while the six Q-Spot™ 560-LED moving yokes deliver razor-sharp projections across the main stage area.
Gear list:
82 x CHAUVET DJ SlimPAR Pro RGBA
24 x CHAUVET DJ COLORband PiX
6 x CHAUVET Professional Q-Wash 560Z-LED
6 x CHAUVET Professional Q-Spot 560-LED