CHAUVET Sponsors Surfcomber Pool Parties at WMC 2012
March 2012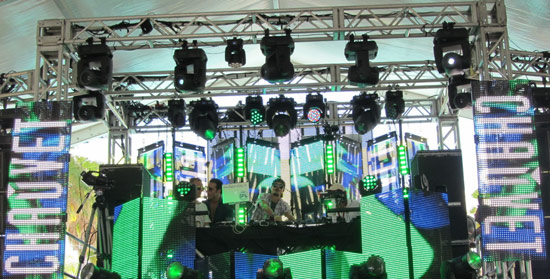 MIAMI, Fla. – CHAUVET® was the official lighting sponsor during seven sold-out events hosted by Go Big Productions during the 2012 Winter Music Conference and Miami Music Week.
"WMC is the biggest dance summit in the world where top DJs in the industry gather and debut their newest mixes," Berenice Chauvet, vice president of CHAUVET®, said. "The seven-day party hosted by Go Big Productions has always been THE event to attend and this year is no different."
As the official lighting sponsor, CHAUVET® teamed with Go Big Productions to transform the poolside of South Beach's Surfcomber Hotel into a customized seaside oasis for music fans. More than 25,000 sun-soaked electronic dance music lovers flocked to Miami to see top DJs in the industry, including Danny Tenaglia, Boris and Pete Tong, mix their latest tracks from a DJ booth illuminated with 13 CHAUVET® Professional fixtures. The luminary lineup included: four Legend™ 412, four Legend™ 300E Beam, one Legend™ 412 VW and four Q-Wash™ 260-LED moving heads.
"Go Big Productions prides itself on producing the best quality sound and lighting events in Miami," Emi Guerra, co-founder of Go Big Productions, said. "Having CHAUVET® as a partner for our Winter Music Conference and Miami Music Week parties at Surfcomber was a natural fit — they are the best of the best."
Gear List
4 x Legend™ 412
4 x Legend™ 300E Beam
1 x Legend™ 412 VW
4 x Q-Wash™ 260-LED