Creative Backstage Builds Looks For Sarah McLachlan Performance With Freedom Par Hex-4
November 2016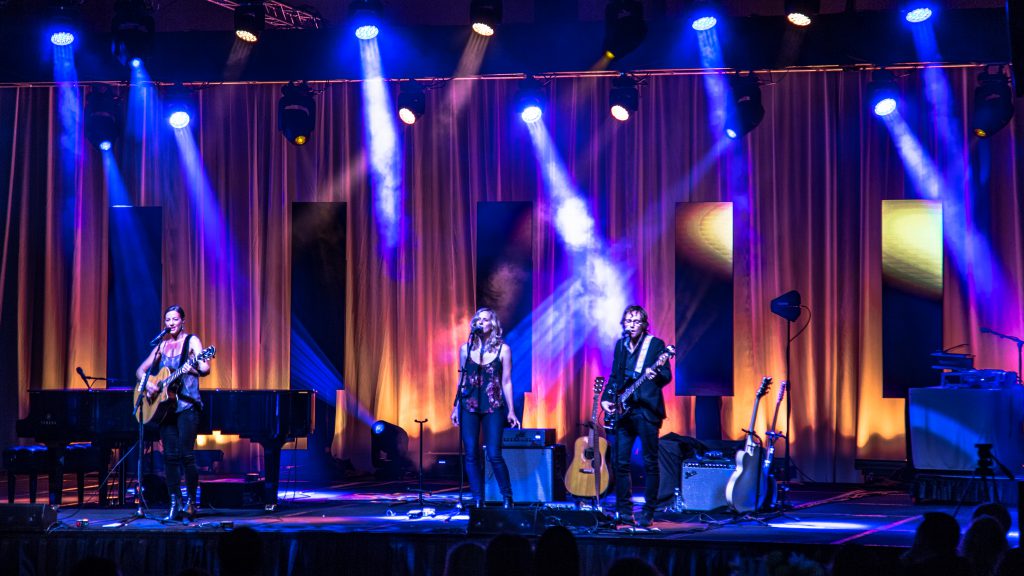 SCOTTSDALE, AZ – Words like "captivating," come up often in reviews of Sarah McLachlan concerts, and with good reason. With a silky, far-ranging mezzo soprano voice that seems to flow like some sort of golden liquid, the three-time Grammy winner enthralls audiences, transporting them smoothly through waves of sometimes conflicting emotions. At a November 5th appearance at The Westin Kierland Resort & Spa, McLachlan performed on a stage that was considerably smaller than those on her arena tours, but lighting designer John Garberson and his team at Creative Backstage supported her performance with a lightshow that was as lush and textured as her signature sound.
"We wanted to create a look that gave this performance a concert feel, because that's what this artist's beautiful music calls for," said Garberson. To do this, the Creative Backstage owner and his programmer/first assistant Matthew Berg and second assistant Rita Assi relied on an impressive collection of Freedom Par Hex-4 fixtures from CHAUVET DJ, as well as 10 Maverick MK2 Spot and 24 Rogue R2 Wash fixtures from sister company CHAUVET Professional.
Garberson's rig included 24 Freedom Par Hex-4 fixtures, which were used for uplighting around the room, as well as eight strip lights for uplighting the backdrop and five moving fixtures over the event dance floor.
"The Freedom battery lights are easy to place and lasted all night through the event," said Garberson.  Also lasting, not just for one magical night, but for many, many nights to come were special memories for those who got to see an iconic artist in an intimate setting that was made to look extraordinarily rich and deep, thanks in part to a well-designed lightshow.
Garberson and his team positioned all but two of the CHAUVET Professional fixtures on rows of downstage, mid-stage and upstage trussing.  They flew two of the Mavericks and ten of the Rogues on the downstage row. "We used the downstage MK2s to throw breakup patterns on the backdrop," said Garberson. "This worked well with the six vertically oriented video panel columns we ran across downstage to create a sense of depth. The scenes we created also reflected some of the many emotions that ran through Sarah's songs. We added color to the backdrop with uplighting and down lighting."
The mid-stage truss had two Maverick MK2 Spots and nine Rogue R2 Washes that were used for down lighting and to create crossing patterns of light. On the upstage truss, Garberson flew four of the Spots and five of the Washes, using them to throw patterns on the stage and wash it with vibrant colors.
A pair of Maverick MK2 Spots that were not flown on truss were positioned on the downstage deck and used to backlight the legendary artist at key moments during her performance. "Give the stature of Sarah McLachlan, we wanted to create special looks around her with backlighting," said Garberson.