"Hairspray" has strong hold on LEDsplash 86b
September 2011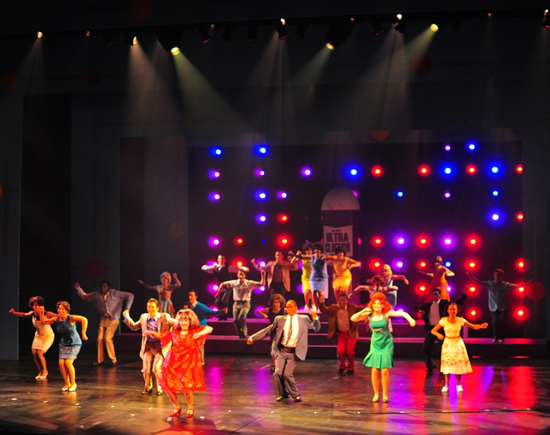 PHOENIX, Ariz – On stage at the Herberger Theater Center in Phoenix, 112 LEDsplash™ 86b wash lights made their debut as Tracy Turnblad belted out "Good Morning, Baltimore" during Valley Youth Theatre's season opening production of "Hairspray."
"Hairspray" is a high-energy musical and the theatre's production crew wanted to create a backdrop to complement and enhance the show. Bobb Cooper, producing artistic director and 15-year veteran at Valley Youth Theatre, teamed with Michael Eddy, director of production at Phoenix Theatre, to construct a 32-by-20-foot LED wall. This wall served as an extension to the musical's scenery while displaying all 112 LEDsplash™ 86b fixtures. With the help of volunteers, they created a wall comprised of 14, 20-foot schedule 40 pipes which were vertically mounted and secured to 33lb bricks. Aligned two feet from each other and affixed to each pipe are eight LEDsplash™ 86b wash lights.
"The fixtures were so lightweight that we were able to zip tie them to pipes for easy install and take down," Eddy said. "The units were focused downstage at the audience so we used a rear projection screen to diffuse the fixtures. For the finale, we removed the screen to reveal
the raw fixtures and give a whole new life to the back wall."
Cooper was impressed with the performance of LEDsplash™ 86b and confident he made the right decision to permanently add them to Valley Youth Theatre's lighting inventory. "We were looking to create a backdrop out of fixtures that were affordable, able to be addressed individually and could be daisy chained together," Cooper said. "The LEDsplash™ 86b fixtures helped us meet our design goal by creating a visually stimulating piece of scenery to help tell the story and enhance the music. They are small but mighty—especially when 112 of them are put together."
Valley Youth Theatre is a nationally recognized company that strives to deliver professional productions in order to inspire kids to be the best they can be. For those interested in the technical side, the theater offers the Kids in Black program which teaches the fundamentals of lighting and audio, as well as life skills including time management, team work, and respect.
"We have kids who come from all over Arizona who want to audition with our theatre," Cooper said. "Valley Youth Theatre is an incredible training ground where we use magnificent sets and equipment, and bring in professionals like New York-based choreographer Tony Spinosa to teach the kids. Both our process and product are excellent and you can't find a weak link in our company."