Intimidator FX 350 Brings 24 Bold Effects to Intimidator Series
November 2013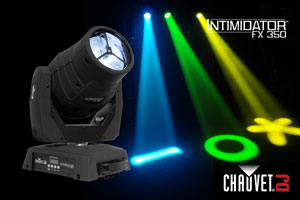 SUNRISE, Fla. – CHAUVET DJ, a leading manufacturer of LED lighting, announces the release of Intimidator FX 350 — a powerful moving head that emits stunning aerial effects.
Perfect for installation in any entertainment venue or mobile setup, Intimidator FX 350 creates bold aerial light shows using a powerful, 75-watt LED and 24 built-in, easy to recall light patterns that conveniently replace the need for gobos. A built-in color wheel (eight plus white) continuously scrolls at variable speeds to maximize options, while a rotating, 3-facet prism splits the beam to cover a larger area. For added versatility and increased effects, it includes electronic dimming, strobe features and fast, user-selectable pan and tilt ranges.
Intimidator FX 350 includes built-in automated and sound-activated programs that generate eye-catching light shows, while customized looks can be created in 7- or 15-channel DMX mode. For large, coordinated light shows using multiple units, it also includes master/slave mode. Built-in movement macros and move-in-black features minimize programming time, while power linking saves time running cables and extension cords. For safe and secure transport from gig to gig, Intimidator FX 350 fits best in the CHS-50 VIP Gear Bag.