Luxe Productions Creates Good Looks For A Good Cause With CHAUVET DJ
August 2017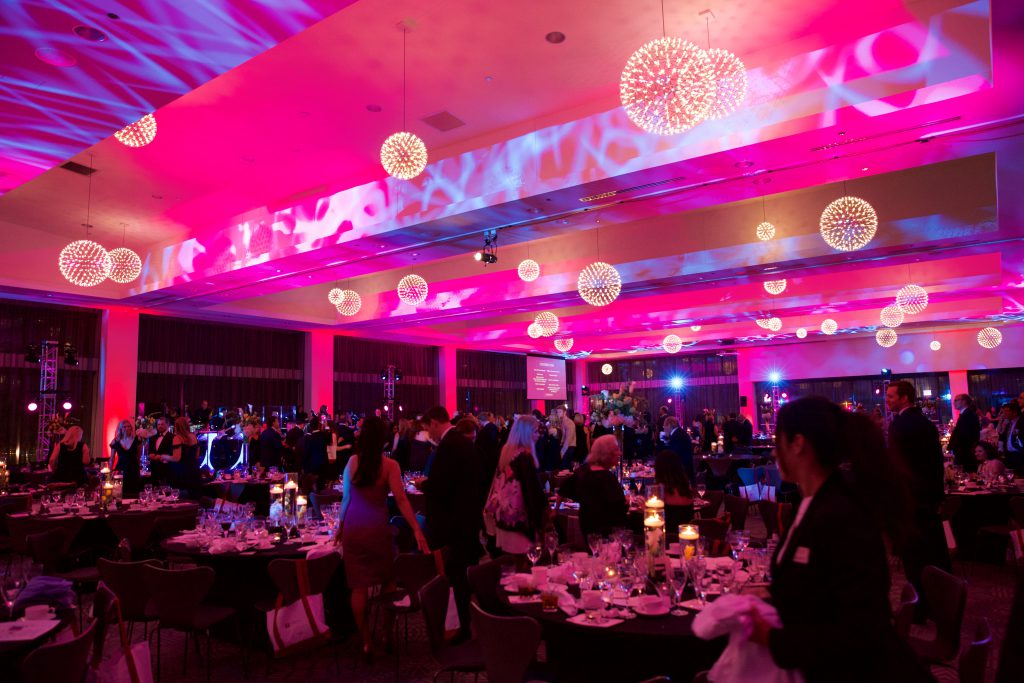 CHICAGO – It's easy to see why the Atlantic Ballroom at the Radisson Blu Aqua has become a sought-after venue for A-list parties and events. With its 20' windows and outdoor balcony, the 1,200-capacity room offers spectacular views of Chicago's fabled skyline and Lake Michigan far below.  Architectural flourishes like a high ribbed ceiling add to the room's elegance.
Creating a connective sense of warmth inside this spacious area, without distracting attention from its panoramic features, presented a challenge to Jordan Chance of Luxe Productions in late May, when he was asked to light the room for a fundraising ball.  Chance and his team of lighting designer Sean Denny and programmer Garrett Vanderveen achieved this balance with flying colors (quite literally) with help from CHAUVET Professional Rogue R2 Wash moving lights.
Skillfully positioning their fixtures and selecting their zoom angles, the Luxe Productions team was able to create an engaging colorscape throughout the entire 12,000 square foot room for the Gastrointestinal Research Foundation's annual fundraiser ball, without taking anything away from its panoramic vistas.
"This is a beautiful room, so you want to support its features with your lighting," said Chance. "We knew we wanted the whole room to be involved with color.  Not just a feature of the room, but the entire room, so everyone felt connected to the event.  Figuring out placement of fixtures so that you felt that way no matter where you were in the space of the event was our biggest challenge. I'm happy to say we met that challenge with help from Chauvet."
The 28 Rogue R2 Wash fixtures played a key role in colorizing the room. "We strategically positioned 14 vertical truss structures at different points in the room and had two of the Rogues on each of them," said Chance. "From this position, the Rogues painted the entire room in color."
For most of the evening, the room was bathed in blues and reds, with yellows added on occasion for variety. "We selected colors based on what played well in the room's décor and the event design," said Chance. "The smooth color mixing of the Rogues really helped out. We also relied on the zoom to control our coverage and to pump up the energy when the entertainment started." (The entertainment for this upscale event was headlined by Dana Carvey of Wayne's World and Saturday Night Live fame.)
Adding to the colors from Rogue R2 Washes were complementary hues from the CHAUVET DJ SlimPAR Pro uplights that the Luxe team used as truss warmers and to wash different architectural features of the room. "Between the Rogues and the SlimPARs, we really pulled the whole room together with color," said Chance. "At the same time, our looks harmonized with the general features of the room."
Chance and his team also relied on four CHAUVET DJ Intimidator Hybrid 140SR moving lights to add texture to the room and distinguish different events during the evening. "The Intimidator's gobo features were a big part of our design," he said. "We used a lot of textured dots, golden rings and straw patterns to create different looks. There were also times we used the patterns to alert people to dinner starting, or to Dana Carvey's performance. In a way you can say that our lighting really communicated to people and brought them to the same page – which was what we envisioned for our design at the start."