Milton de la Cruz Lights Orbit Eventos Drive-In-Livestream Combo With CHAUVET DJ
October 2020
CALI, COLOMBIA – Drive-in concerts have become popular in the wake of COVID-19 lockdowns. So too have livestream shows. Orbit Eventos combined the two formats this September, in a "hybrid show" that offered fans the choice of watching at home via a livestream, or enjoying the DJ and band performances from their automobiles at a simultaneous drive-in show.
Collaborating with Orbit Eventos, famed Colombian producer, Ricardo Ruiz, who has worked with leading Latin stars like Justin Quiles, Darkiel, Victor Manuelle and Grupo Niche, created the dual-purpose show at a park south of the city of Cali.  Although the two-hour event offered fans the best of both worlds, it did present some special concerns for lighting designer Milton de la Cruz, who had to balance the demands of creating looks that were bold enough to reach the spread-out drive-in audience, yet tight enough to work on a livestream.
"For me as a lighting designer, the challenge was to do something that would engage the drive-in audience, while at the same time lighting the stage as if it were a television studio," said de la Cruz. "I needed to generate excitement while still being camera friendly."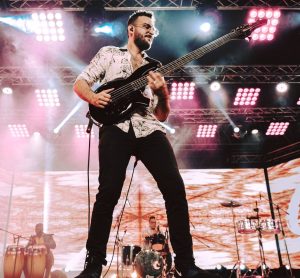 Helping de la Cruz accomplish this goal at the Orbit Eventos show were 18 Intimidator Hybrid 140SR and 10 Intimidator Beam 140SR fixtures from CHAUVET DJ.  Positioned along the upstage deck at the base of a curved video wall and on overhead truss, the versatile 140W hybrid fixtures performed as both a beam and wash. To complement these effects, the Intimidator Beam 140SR units, which were flown in a straight line on downstage truss, were used to create a light grid.
"The hybrids worked really well as headlights on the stage floor," said de la Cruz. "This created shocking patterns during the DJ and band performance without taking anything away from the key lighting for the livestream broadcast."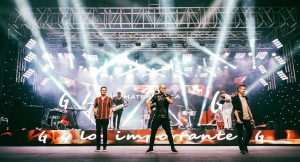 When they weren't texturizing the stage deck, the Intimidator Hybrid 140SR fixtures were used to create crossing patterns of light with the beam fixtures, which helped to frame the stage for livestream viewers, while also creating exciting looks for the live audience.
During peak moments of the show, which featured performances by the likes of the Rapsoda Retro Band and La Banda de George, the hybrid fixtures on the stage deck shot out dynamic aerial effects. Tightly focusing these lights, de la Cruz was able to engage the live drive-in audience without detracting from the livestream's looks.
For de la Cruz, lighting the combination livestream-drive-in show was a rewarding experience. "I enjoy working with Orbit Eventos," he said. "Plus, being part of a show with Ricardo Ruiz was a great honor. I also enjoyed the challenge of doing something new."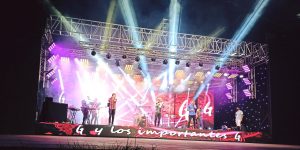 By meeting that challenge so successfully, de la Cruz made this unique show rewarding for fans too –whether they were watching from their cars or at home on their computers.
Photo Credit: Natalia Santander