Over 30 New Products Debut at NAMM 2011
January 2011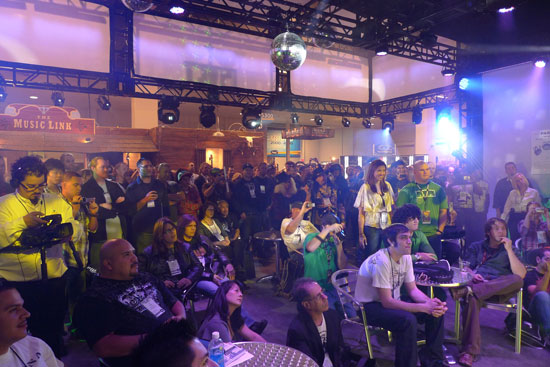 SUNRISE, Fla. – CHAUVET® announced over 30 new products were released at The NAMM Show 2011 in Anaheim, Calif., including 21 new LED fixtures, six new lasers, two new controllers and all-new CHAUVET® travel bags. Additionally, almost all CHAUVET® fixtures have Edison power linking which make them very compatible and easy to use with other fixtures.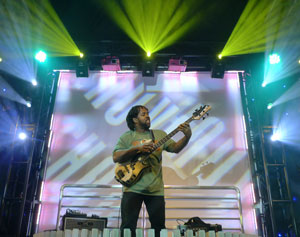 A bountiful selection of new LED-based scanners, effect and wash lights, as well as hazers, controllers and lasers were introduced to the crowd at NAMM which was held January 13 – 16, 2011. During the show, GRAMMY® award-winning bassist, Victor Wooten and fellow bassist, Quintin Berry, performed to hundreds of tradeshow goers at the CHAUVET® booth.
"We brought over 30 new fixtures to the show," said CHAUVET® National Sales Director, Jamey Brock. "I think we have a number of incredible and affordable products for the music industry. It was an exciting show, with great music, and I'm looking forward to getting back with everyone who stopped by to see us."
Below are a few selected products with the full 2011 catalog available on this site.
Specifically designed for the mobile DJ is a new gobo projector called Gobo Zoom™ LED. It comes with eight gobos, a set of four colored gels and the ability to manually zoom for short-throw or long-throw applications. The super-compact projector has one 10W LED, operates on up to two channels of DMX control or can be configured for stand-alone use. Due to the low-heat found in an LED fixture, custom gobos can be created on transparency film and easily inserted into the projector.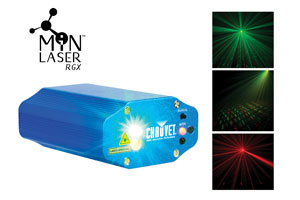 Joining the MiN™ family of palm-sized lighting fixtures are three new, ultra-compact lasers: MiN™ Laser FX, MiN™ Laser RGX and MiN™ Laser Star.
Three new Scorpion™ lasers were introduced featuring the patented Fat Beam™ laser technology, which creates beams four times thicker than a standard laser, and some bold color options. The green, violet and/or cyan Scorpion™ GVC; the red, green and/or yellow Scorpion™ RGY; and the red, violet and/or magenta Scorpion™ RVM. All three are linkable to create a full-spectrum laser show.
Three new scanners joined the Intimidator™ family with sleeker, lighter-weight housings, brighter LED lighting sources, and linkable power options to save from running multiple cables during setup. Intimidator™ Scan Led 100 has a combined gobo and color wheel with seven patterns and six channels of DMX control. Intimidator™ Scan LED 200 has separate gobo (seven metal) and color (seven split colors) wheels—each offer continuous spin at variable speeds—and up to eight channels of DMX control. Intimidator™ Scan LED 300 also has separate gobo (five metal and two glass) and color (eight split colors) wheels and includes a three-sided prism, remote focus, interchangeable, slot-n-lock gobos with continuous spin at variable speed and up to 11 channels of DMX control.
In the effect light category are over a dozen new LED-fitted fixtures—many room-covering options with or without DMX control. Circus™ is an ever-changing, multi-colored light with razor-sharp beams from five separate, synchronized pods featuring red, green, blue, white and amber LEDs. Its effects can be seen with or without fog, offering fantastic effects in the air or on any surface. It has up to three channels of DMX control or can be used in any of the awesome sound-activated or built-in automated programs.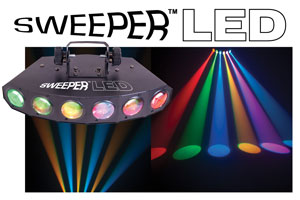 Sweeper™ LED
and
6SPOT™
are two effect lights that feature six 3W, tri-colored LEDs and can be linked together, working in master/slave mode, for larger, coordinated shows. They both have sound-activated and built-in automated programs and up to 20 units can be power linked together to save on setup time.
Sweeper™ LED
has six pods of LEDs, contained in a single casing, which can be individually controlled for amazing color chases, sequences and effect combinations.
6SPOT™
has six spot lights that are less than four inches, can fit almost anywhere and can be moved independently for total room or stage coverage. It can be setup or taken down in minutes, mounting easily to the 4BAR™ system or any universal tripod, and comes with its own travel bag.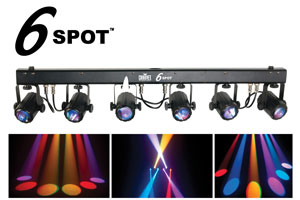 The quad-colored effect light, Comet™ LED uses red, green, blue and white LEDs to shoot crisp beams of light that cover an entire room. This plug-and-play fixture has sound-activated effects and a motor that spins in both directions for a swirling effect that looks great with or without fog. Save time by power linking up to 80 units together instead of running cables and extension cords.
Two all-new, extremely affordable, soft-sided CHAUVET® VIP gear bags debuted as well. Each offer removable dividers to keep multiple fixtures packed safely for transport and convenient side pockets for cables, clamps and other accessories. CHS-50 is the larger of the two and features built-in wheels and a retractable handle for transporting larger fixtures with ease. CHS-40 has a convenient handle and shoulder strap to suit different transportation styles.