Virginia Beach Schools Switch to LED
November 2008
The Virginia Beach City Public Schools system is rethinking the kind of lighting it uses for its theaters, classrooms, hallways and courtyards after learning it can get more lighting for less money, plus save on energy costs.
The school system will hold an open house at 3 p.m. Thursday, Dec. 4 at its Green Run High School to discuss the project and its savings.
The school district encompasses 96 buildings, of which 88 are schools, in a 307-square-mile area. It is the second largest school system in Virginia, serving approximately 68,750 students in grades K-12. The system includes 15 middle schools, 11 high schools, each with its own theater.
The school system selected CHAUVET® LED fixtures for the first leg of this project – replacing theater lighting with LED fixtures at the Green River High School. CHAUVET® is a Hollywood, Fl.-based lighting manufacturer that creates entertainment, production and architectural luminaires.
School officials said CHAUVET® provided exactly what they wanted.
The school system is also looking at other ways to save money with energy-saving LED lighting. By installing LED fixtures in its 26 middle- and high school theaters, it will realize an average savings of more than $330,000 per year, according to John Hasher, the mechanical systems coordinator for the school system.
Lighting in two school theaters has now been completed and another six theaters are in line for immediate replacements.
According to Hasher, LED fixtures would consume six times less wattage than the current incandescent fixtures. Because of their conservation ability, LEDs or Light Emitting Diodes, are considered "green" because they lessen the need for additional power plants that cause the release of CO2 into the atmosphere.
Hasher said he plans to use performance-based contractors – another money saver – for future lighting projects as they are paid from the lights' annual energy savings over a contracted period. Any savings beyond that pays for other needs, such as new air conditioning systems.
This type of contracting encourages contractors to be innovative and to find cost-effective ways of delivering services, according to Hasher. By shifting the focus from the process to the results, they also produce better outcomes.
Performance-based contractors "are very popular up north where energy costs are higher," Hasher said. "We're on the cusp of it now." He foresees numerous schools and colleges embracing this technique to offset shrinking budgets.
Planning for the theater lighting project began three years ago, Hasher said. A conversation with J.B.
Basnight & Son Electrical Contractors, a Virginia-based CHAUVET® dealer, started Hasher down the LED path and additional research by school officials confirmed that LED fixtures last longer than conventional lighting and save on electrical costs.
Hasher said he is also looking to the future, to use LEDs for general applications. He is now considering replacing one theater's 80 incandescent house lighting with LED fixtures.
CHAUVET® recently developed a prototype light that the school is testing.
"We're looking for hallway, classroom, courtyard and down lighting that can save even more money," he said.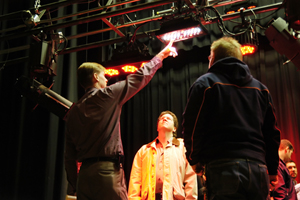 Have a great installation or lighting rig story? Send us your images and information. If we use it, we'll send you SWAG! E-mail pr@chauvetlighting.com