Brent Schmidt Reflects Spirit Of St. Luke's Manor With CHAUVET DJ
October 2018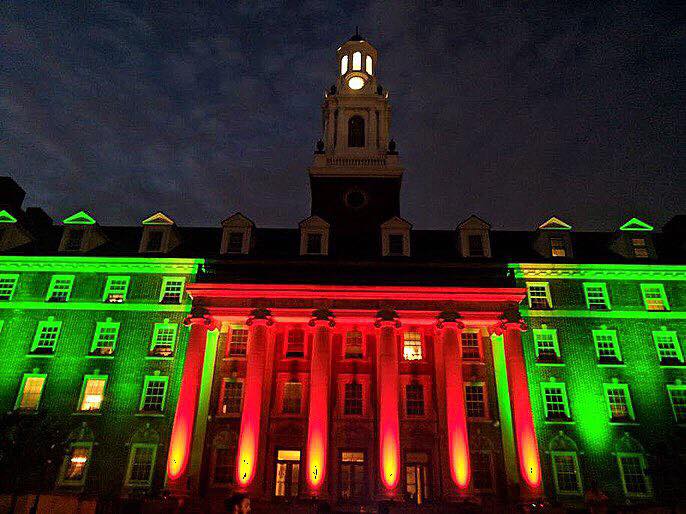 CLEVELAND – For residents of the historic Buckeye-Shaker neighborhood, the concerts that take place on the sprawling grounds of St. Luke's Manor offer more than a chance to enjoy good music, they also serve as a celebration of their community's rebirth. The impressive building that provides an emblematic backdrop to the concert series had stood empty and neglected for 14 years after the hospital that originally occupied it closed its doors in 1999. When the five-story structure reopened after extensive renovations in 2013 as a multi-use facility, it served as a catalyst for a neighborhood-wide renaissance.
Lighting designer Brent Schmidt of B Productions reflected this hopeful spirit and accented St. Luke's Manor's memorable architectural features, when he illuminated the building in an array of colors. Helping him in this endeavor were 24 Freedom Par Quad-4 IP and six Intimidator Wash Zoom 350 IRC fixtures from CHAUVET DJ.
"With its columns and imposing clock tower, St. Luke's Manor provides an amazing 'canvas' to work with," said Schmidt. "The colors we were able to create with our lights made this historic building come alive and added to the atmosphere."
Schmidt changed the color of his lighting throughout the concert, moving from red and green schemes during holiday promotions, to soft pastels, to bolder colors, depending on the music. "I think we used every possible color at one time or another," he said. "It was a great way to support the mood of the music. Alex DiMichele, the organizer of the concert, had a very complete program, so I'm glad we were able to provide lighting that reflected its different dimensions."
The 24 Freedom Par Quad-4 IP fixtures in Schmidt's rig were used to wash the upper section of the building. "We placed the Freedom Pars in the walk-up area, positioning them on rails that were about 10' away from the actual building," he said. "The walk-up area was on different levels, which made it problematic to cover the base of the building with the kind of consistency we wanted, so we elected to light the building from its middle floors to its roof."
Schmidt placed the six Intimidator Wash Zoom 350 IRC units in his rig at the base of the six columns at the center of the building. Tilted at a slight angle, the Intimidator fixtures had no trouble covering the entire length of the columns. Utilizing the wide zoom range of the Intimidator fixtures, Schmidt varied the coverage area on the columns during the concert to create a sense of movement.
"We got a lot of very positive feedback on our lighting," said Schmidt. "Personally, I was very happy to see what my team was able to accomplish. I think we showed that you don't need a lot of fixtures or very expensive fixtures to create an impressive outdoor light-scape over a large building. St. Luke's Manor is an important structure that means a lot to its community, and I'm happy our lighting did it justice."