Creative Backstage Uplights For Smash Mouth With Freedoms
March 2017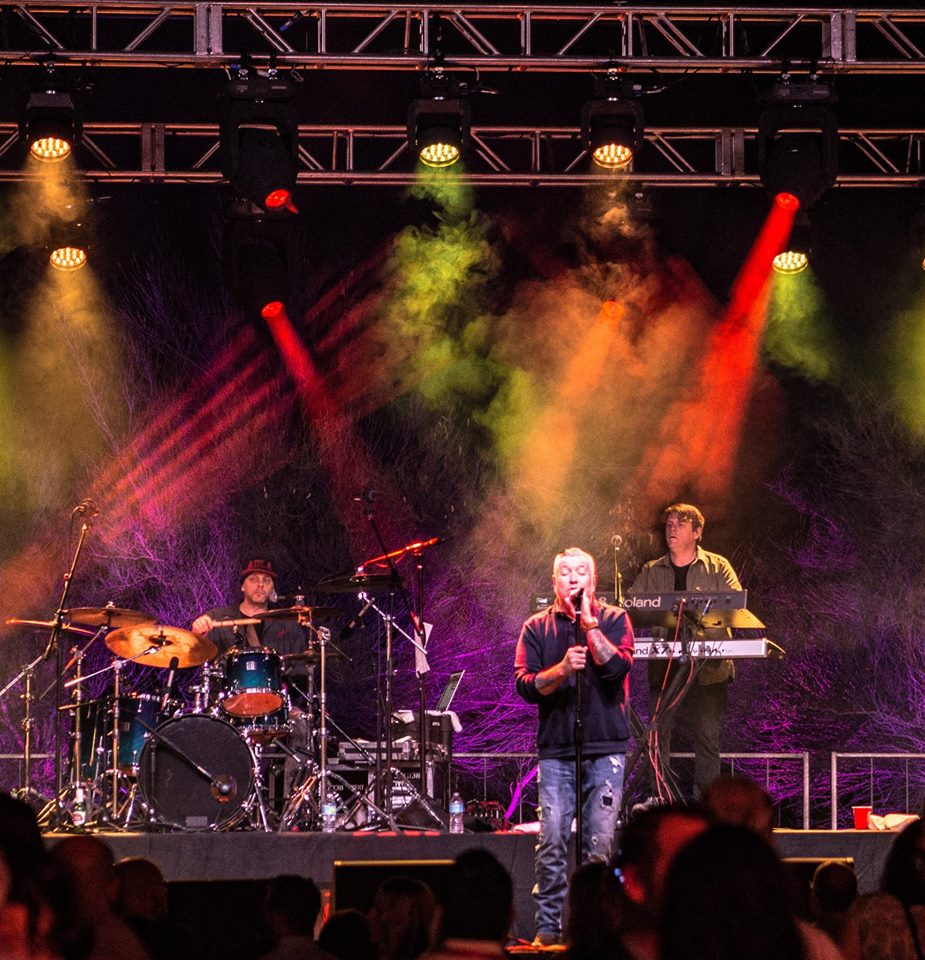 CHANDLER, AZ – There's a reason Smash Mouth's hit single "All Star" has been described as the "voice of the internet generation." Aside from becoming the unofficial theme song of the Shrek series of films, the catchy cheerful tune has reappeared in a seemingly endless variety of covers since its 1999 release, including mash-up, subreddit and trap versions to name a few. There's even been an "inverted" reincarnation of the song that jumbles its lyrics to change their meaning.
Smash Mouth avoided these diversions recently when it performed its hit at a Chandler, AZ appearance, sticking to the song's original F-sharp major 104-beats-per-minute tempo structure. Providing an appropriately upbeat backdrop for the iconic song, as well as the band's other hits, was a lively colorful lightshow designed by John Garberson of Creative Backstage using CHAUVET DJ Freedoms and sister company CHAUVET Professional Maverick, Rogue and STRIKE fixtures.
Garberson's rig, which was set on a Stageline SL250 stage, consisted of 10 Maverick MK2 Spots, 24 Rogue R2 Washes and four STRIKE 4 multi-formatted warm white effects. Flown on downstage, mid-stage and upstage truss, the moving fixtures were used to shower the stage with richly colored beams from multiple directions.
"The band has as much energy today as it did 15 years ago," said Garberson. "Its music gets you on your feet. We wanted to match this with color and movement, so we used a lot of crossing beams in bold primaries like reds and greens and played the beams off some haze. Without a doubt, the intensity and speed of the Maverick MK2 Spots contributed to the energy level on stage."
Garberson, his programmer/board operator Matthew Berg and design assistant Rita Assi positioned the Mavericks on mid-stage and upstage truss and the Rogues on downstage, mid-stage and upstage truss. This arrangement gave them complete coverage of the stage.
"The wash and beam effects that we got from the Rogues and Mavericks complemented each other very well," said Garberson. "By mixing the beams and washes together we created a nice looking layered effect that added depth to the stage."
Positioned on upstage risers, the four STRIKE 4 fixtures in the rig were used to backwash the stage in a warm white glow for some songs. For others, the STRIKE units were used as eye candy or strobe effects.
Behind the open backed stage was a line of trees. Garberson turned them into an attractive scenic element by uplighting them with CHAUVET DJ Freedom Par Tri-6 RGB battery-powered fixtures.
"We left the back of the stage open and created a very nice ambience by lighting the trees," said Garberson. "The lighted trees gave the concert a more natural feel.  The purple tones we used on the trees blended nicely with the colors on stage from the Rogues and Mavericks. Everything worked well together, from our lighting to the weather — and of course the band — to create a perfect evening."