DiverZe Helps JumpSky Trampoline Park Stand Out With Colors From CHAUVET DJ SlimPAR Fixtures
March 2019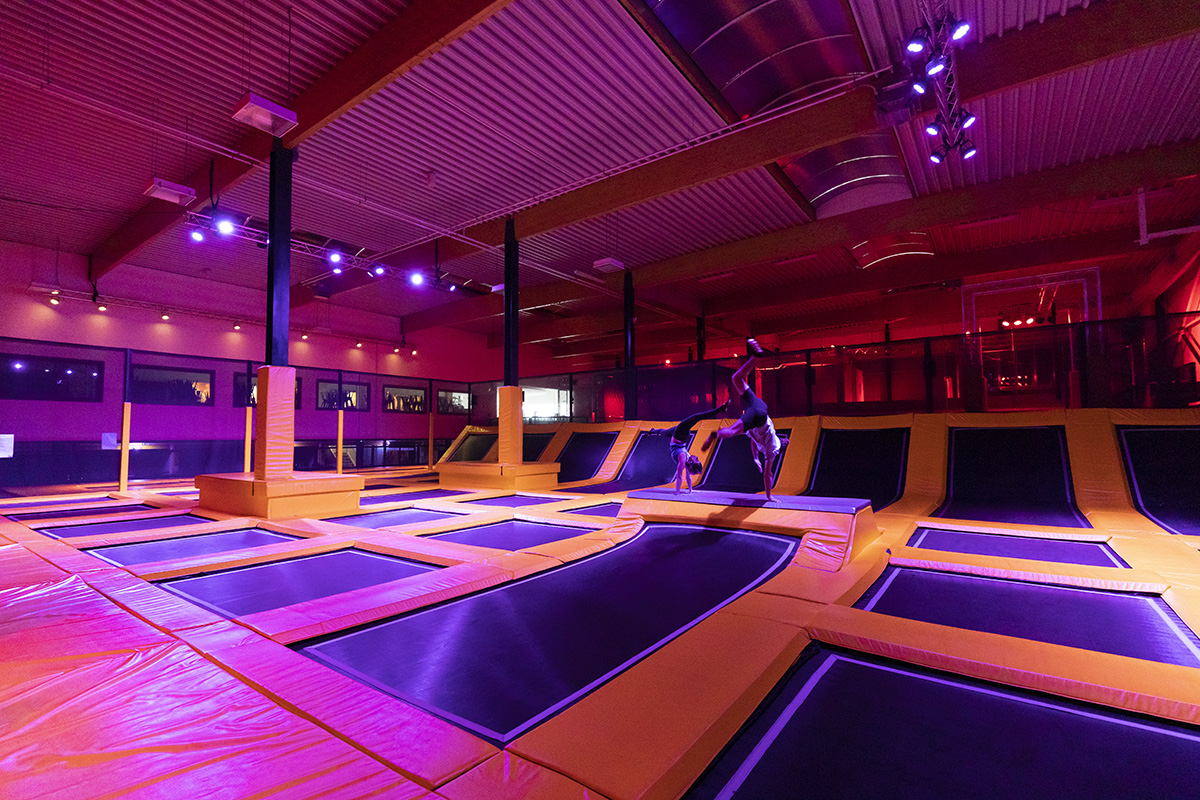 LOCHRISTI, BELGIUM – George Nissen isn't a household name, but a wildly growing number of people are jumping for joy over his invention. Back in 1930, Nissen, then a 16-year-old high school student in Iowa, watched in awe as trapeze artists bounced on a safety net after completing their routines. It looked like fun, so four years later he and a partner turned his inspiration into the first modern trampoline.
For a while, Nissen's invention remained a relatively obscure practice tool used primarily by gymnasts. Then in the 21st century, trampolining took flight. By some accounts, the number of trampoline parks in Europe and North America has increased by over 600% since the middle of this decade. This has led trampoline park proprietors to seek new ways to stand out in an ever-more crowded market.
For the owners of JumpSky, creating this point of distinction involved adding bright color-mixing CHAUVET DJ SlimPAR fixtures, installed by Wim Zwarts of DiverZe.
"Our client wanted to create a better atmosphere in the trampoline park by enhancing the sound and light," said Zwarts. "Being a former indoor tennis court, there were only general discharge lamps in the park, which limited the kind of looks they could create. I met with the client to present a total sound-and-light solution. From the lighting standpoint, the ability to create colorful, vibrant looks was a top priority."
To achieve this goal, Zwarts installed 76 SlimPAR Pro H USB and 26 SlimPAR T12 USB fixtures throughout the trampoline park. Flown on truss above the trampolines, as well as over the trapeze and the Ninja warrior cage course, the SlimPAR Pro H USB fixtures are used to elevate the excitement level at the park with their mix of vivid colors.
"We chose the SlimPAR Pro H USB because of its colorizing capabilities," said Zwarts. "Its UV capabilities are especially useful in allowing us to create bold colors that really contribute to the atmosphere inside, particularly in areas where we want more intensity."
The SlimPAR T12 USB fixtures are flown over the tumbling track, small breakout rooms and the downstairs waiting area. From these positions, the RGB fixtures are used to create mellower atmospheric moods.
Extremely flexible and easy to control, the new lighting system seamlessly moves from colorful good time looks, to more serious white lighting for sessions when experienced trampolinists are performing. The system is also programmed to create a compelling sound-and-light show every hour to mark the end of each session.
Installing fixtures high above the trampolines and working outside of JumpSky's normal business hours presented some challenges, but Zwarts was able to meet them, thanks to the compact size of the SlimPAR units and the work of his colleagues. "People like Nic, Carl and the rest of my crew helped make this project a success, allowing me to focus on creating a system that is simple enough for anyone to control, regardless of their technical skills," he said. "The client believed in our vision for this project, so it felt good to see how positively they reacted to the finished product."
As for JumpSky's customers, they are enjoying the atmosphere created by the facility's new lighting and sound system. In the red hot trampoline park market, providing this level of engagement is just what's needed to jump ahead of the competition.