MX Événement and CHAUVET DJ Help Design Aglaé Create Magic For Euro Disney
June 2019

CHAMPS-SUR-MARNE, FRANCE – "A garden to walk in, and immensity to dream in," what more could anyone ask? So wrote Victor Hugo over a century and a half ago. Sophie Hombert and her company Design Aglaé S.A. have discovered a beautiful answer: luminescent flowers that glow radiantly in the dark!
The young French visionary and entrepreneur beguiled visitors to Disneyland Paris with her creation this spring, as she adorned the popular Ticket to America Startup Competition with her lustrous floral display.
Adding a captivating glow to this enchanting vista at the high-profile event, which was sponsored by the American Chamber of Commerce in France, was a lighting system by MX Événement that drew on the illuminating power of the CHAUVET DJ EVE P-150 UV. The company deployed 16 of the 150W UV LED fixtures throughout the display, relying on their ultraviolet light to make rows of specially treated flowers glow in the dark.
The Design Aglaé creative process begins with a new (and entirely natural) nutritive serum that causes the flowers glow under ultraviolet light, so their beauty can be savored both day and night.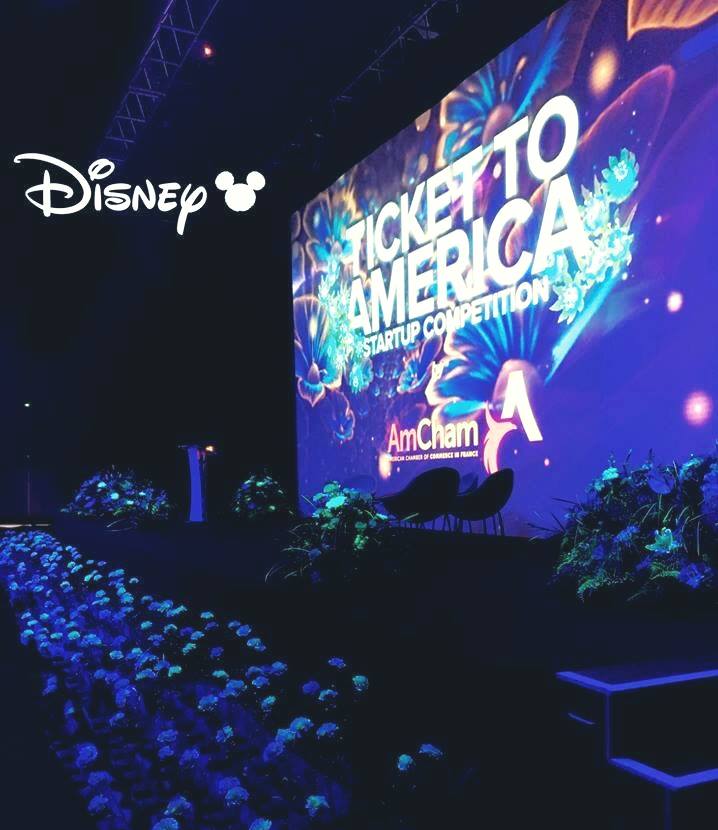 Of course, in order for this nocturnal magic to occur, a reliable ultraviolet light source is needed. This is where MX Événement's expertise came into play. The company was asked to provide lighting that could project a smooth, evenly focused field of UV illumination on the flowers, while not distracting from the floral display itself. After evaluating 15 different UV fixture options, the MX Événement team selected the EVE P-150 UV for the project.
"We had to find powerful, compact and lightweight projectors to perform," said an MX Événement spokesperson. "The output of the EVE fixture was very impressive, and the
adjustable opening with magnetic lenses was especially useful in allowing us to focus the light. These features, along with the EVE's reasonable cost, compactness and easy installation design, made it the clear choice."
Also winning praise from MX Événement and others associated with the Ticket to America Startup Competition were the EVE P-150 UV's silent operation and flicker-free output. Both of these features were extremely useful in helping to make the lighting system unobtrusive during the event.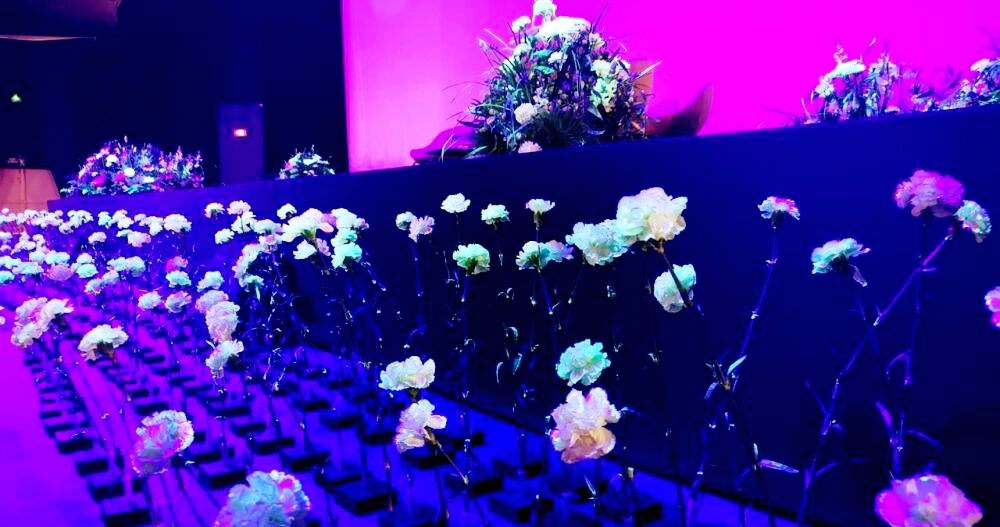 MX Événement positioned the compact EVE fixtures discreetly within and around the floral display so they weren't very visible. The quiet operation of the fixtures meant that they also could not be heard.
Out of sight, and out of hearing range, the EVE P-150 UV lights did their work anonymously. Working this way behind the scenes, they made something that seemed impossible (like flowers glowing in the dark) come to life without any apparent "outside" influence… and that is how the most enchanting magic happens!