Intimidators Help The Bridge Celebrate With Aaron Kovelman
February 2017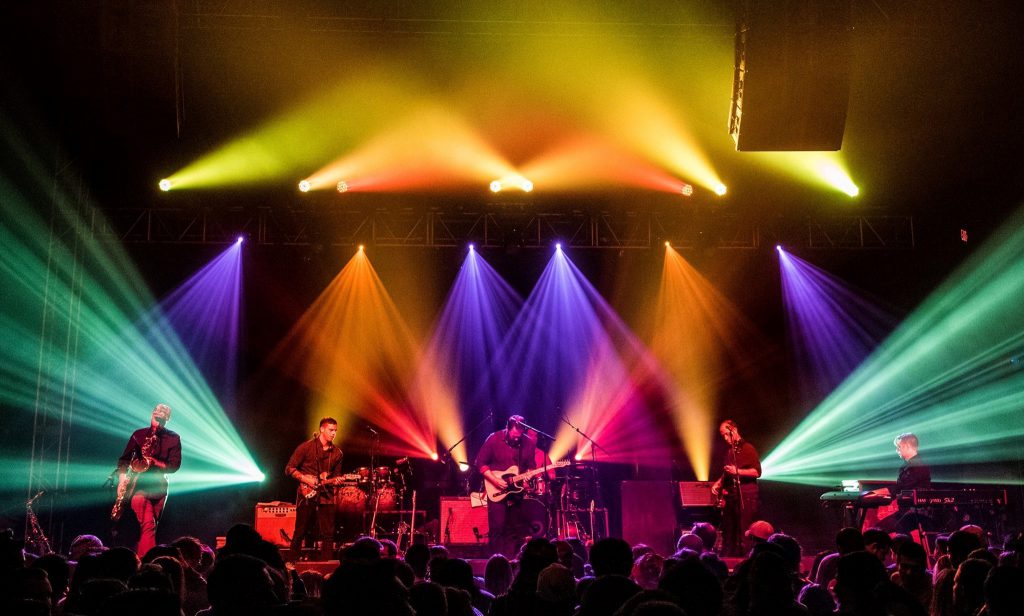 BALTIMORE, MD – Coming off a year of touring with EDM artists like The Chainsmokers, Cash Cash and Tritonal, designer Aaron Kovelman was accustomed to creating big slashing looks with lots of intense beams, crazy truss angles and ample helpings of eye bleeding audience lighting. Taking on an anniversary concert for his hometown friends and jam band legends The Bridge, however, required him to wear a different more subtle lighting design hat. He donned it very well too, creating some pure live band looks with help from CHAUVET DJ Intimidator fixtures and CHAUVET Professional Rogue fixtures.
"Coming off a lot of electronic dance music shows I was very excited to light up a full band of musicians," said Kovelman. "I wanted to go for as clean of a setup as possible, with straight lines of fixtures – something very simple, but also super sophisticated, yet still with its share of crazy looks."
Kovelman was also intent on keeping his design as unobtrusive as possible, given the nature of the concert. "This was The Bridge's 15-year anniversary of playing this specific show in Baltimore," he said. "The audience was filled with family — and fans that have become almost like family. I felt obligated to give the most elegant show possible, keeping the band members as highlighted as possible, and only giving a dominant light spectacle when the music called for it."
To create this supportive look, Kovelman flew six Intimidator Spot LED 350 fixtures on upstage truss. The 75-watt high-output movers provided him with plenty of punch for the band's intense riffs, and their seven rotating gobos gave him a variety of interesting looks.
"I relied on the Intimidators for my main profile punch," said Kovelman. "Having the LED lamp in the 350s results in a very crisp clean spot look as well as very tight gobos. I am definitely a fan. I lowered the upstage house truss that had the 350s on it by half the trim height of the room to create a more intimate feel. In terms of intensity and color, they worked extremely well with the Rogues and allowed me to create some nice layered effects."
Kovelman's rig also included four CHAUVET Professional Rogue R2 Wash fixtures on cases that he arranged across the upstage deck. The RGBW fixtures provided him with a broad and vivid palette for backwashing the six-piece band. "Among the things that always impresses about Rogue fixtures in general is their color mixing," he said. "I was able to change the mood on stage without being intrusive by shifting from color to color. The zoom range of the Rogues is also very fantastic, which made it easy to change looks."
The Rogue and Intimidator fixtures also were quick to respond to Kovelman's commands, an attribute that the LD found very useful, since he punted throughout the entire anniversary show. "The Bridge loves to improvise, so I had to keep up by punting," he said. "Also, coming off an EDM tour for this one show didn't leave me any time to build any special cue stacks."
For Kovelman, punting for The Bridge was not without its stress "I grew up listening to this band, knowing every inch of their music," he said. "Kenny Liner and Cris Jacobs of The Bridge have always been very supportive, but still I was slightly nervous about keeping things as perfect as possible. I didn't want to miss a step, because everyone in the crowd that night knew the band's music extremely well and was definitely watching the lightshow. It was a big hometown reunion. But in the end, thanks to some help from my friends like Brett Angstadt of Round Peg Productions, Shawn Hocherl of Showtime Sound and Erik Mora of LumenCu, it was a reunion that went off without a hitch."