CHAUVET DJ Captivates at Prolight+Sound
April 2013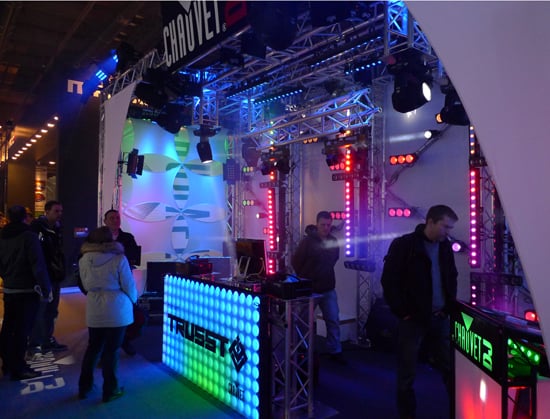 FRANKFURT, Germany — Chauvet, a leading manufacturer of professional lighting, showcased a diversity of fixtures at Prolight+Sound 2013 International trade show. Built entirely of TRUSST — the rugged yet lightweight trussing solution backed by Chauvet, the CHAUVET DJ stand featured Core 3×3 eye-candy wash light, Geyser RGB unique effect fogger, Nimbus professional dry ice machine and BEAMbar white light effect, all of which received great feedback and enticed visitors.
For the latest in pixel-mapping technology, the Core series, which includes Core 3×3 and Core 3×1, combines pixel mapping, a blinder effect and a powerful LED wash into one fixture for the ultimate in versatility. The fixtures allow you to combine multiple units for an impressive array of large-scale animations and chases in any application. Powered by individually controllable tri-color RGB LEDs with chip-on- board technology, it utilizes a unique reflector cup to produce large pixels of light and create intriguing sweeping and chasing effects.
Geyser RGB makes a bold statement and enhances any gig as it generates an illuminated CO2 cannon and pyrotechnic-like effect. It is an effect light and fogger in one unit that blasts a vertical stream of safe, water-based fog while simultaneously illuminating it with 21 high-power, 3-watt RGB LEDs. Or for a different type of effect, Scorpion Burst GB merges the visual appeal of a scanning graphics laser and the room-filling coverage of a burst-style laser into one product. Blue and green lasers project up to 24 integrated graphic effects, while a burst filter replicates the effect and projects it around the room.
Nimbus is a professional dry ice machine, which produces thick, white fog that hugs the floor and dissipates without rising. This powerful machine heats enough water to create fog from 10 pounds of dry ice to provide 6 minutes of run time. Output and flow are easily controlled, thanks to an adjustable multi-level control arm. Dual heaters allow for faster heat-up and recycle times. A low water sensor increases safety.
BEAMbar joins the CHAUVET DJ line of products with a 4-degree beam angle to emit narrow, razor-sharp beams of white light for crisp visual effects. Fitted with five, 6-watt white LEDs, it includes full pixel control to easily create eye-catching sweeps, animations and runway effects. Or, to build a massive matrix, combine several units using the CBB-6 mounting bracket.