Patent Pending
Experience the wonder of wireless lighting control right from your smart phone or tablet.  BTAir is the app that makes it happen!  Download the free BTAir app (patent pending) from the App Store or Google Play and discover how easy it is to control your Bluetooth®  wireless technology compatible CHAUVET DJ fixtures right from your phone or tablet without any additional hardware needed!  Create and store scenes.  Control color fades, chases and more right from the palm of your hand with BTAir.  Light easier. Download Here: Android | iOS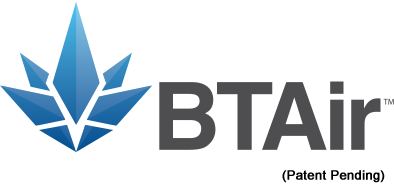 The Bluetooth® word mark and logos are registered trademarks owned by the Bluetooth SIG, Inc. and any use of such marks by Chauvet & Sons, LLC is under license. Other trademarks and trade names are those of their respective owners.
Minimum Operating System (Android):

Lollipop (v5)

Minimum Operating System (Apple):

iOS 8

Bluetooth compatibility:

V4.2 (or greater)
Read Our Review
3.2 out of 5 stars (based on 17 reviews)
App issues
Hello. I have a Motorola Z3 connecting 2 Colorband Q3BTs & 2 4BAR LT QBTs. I have a couple issues with the app. I am posting here after I googled and YouTube'd looking for an answer. If I drag my finger (on purpose or accidentally) on the color wheel, the app crashes and I have to start everything from scratch. Once in Playback mode, I cannot delete any saved screens as described in the instructions. I wish the ZoneChase feature wouldn't blackout the other lights within the fixture. It makes for a very dull look. I also wish there was a way to make use of the auto programs within the lights. My band members and myself really like these lights. I trigger between scenes with the FSBT Footswitch which is awesome. Any help with the app crash and how to delete saved scenes would be greatly appreciated!
pairing issue with new btair version
i've had 3 x bt quad pars and 2 x 4bar quads running on the old version of this app for 6 months or so now, no issues. yesterday after the new version downloaded i cannot pair with 2 x 4bars now, i can pair with either one of them if I unplug the other, but it gives me a grey error box (cant remember what it says now) if it tries to pair up the 2 x 4 bars at pairing time. i don't want to uninstall as i cant save the show i have programmed up. kind of a big issue.
WHERE IS THE APP?
I can't find the app anywhere ?
Easy setup saves a lot of time
As a mobile dj the q4 save me so much time ! BY far my best investment In the last 3 years. Only downside is the lag when you push a button in Playback, but if the timing isnt that important For you, go for it !
Good products - app is lackIng
So good to have lights which don't require any cable connections to power or control. But please work on the app. The Ux on it is not great. My number one request would be to be able to control the fade from one lighting setup to another when switching between programs. I use this for stage lighting for small gigs, and want to be able to slowly fade from one colour setup to another when the perFormer starts a new song, but at the moment it just does an instant transition.
Great product... (4Bar LT QuadBT)
i hate programming dmx, so this is perfect for me. i would, however, like to see some special effects lights added to the line, like some moonflowers or derby's, anything!!! also maybe a simple switch that could connect to the same bluetooth app that could simply turn off and on a sound active light or effect.
Great
What a simple and great range of products. Working fine. Maybe the possibility to add a TAP tempo?
Great product
We installed these in our CHURCH and THEY are working very very well THE app part could use a little more features but otherwise working great
Great! exCept 1 thing
The app has worked well for me except it has never worked on sound activated. The app shuts diwn when i hit the sound activates button.
THE BTA app wont connecnt on IPAD PRO of latest IPHONE
Wish I could use it, Bought many BT Lights and cannot use it as designed