Patent Pending
Experience the wonder of wireless lighting control right from your smart phone or tablet.  BTAir is the app that makes it happen!  Download the free BTAir app (patent pending) from the App Store or Google Play and discover how easy it is to control your Bluetooth®  wireless technology compatible CHAUVET DJ fixtures right from your phone or tablet without any additional hardware needed!  Create and store scenes.  Control color fades, chases and more right from the palm of your hand with BTAir.  Light easier. Download Here: Android | iOS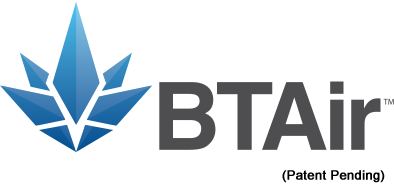 The Bluetooth® word mark and logos are registered trademarks owned by the Bluetooth SIG, Inc. and any use of such marks by Chauvet & Sons, LLC is under license. Other trademarks and trade names are those of their respective owners.
Minimum Operating System (Android):

Lollipop (v5)

Minimum Operating System (Apple):

iOS 8

Bluetooth compatibility:

V4.2 (or greater)
Read Our Review
3.3 out of 5 stars (based on 12 reviews)
Great product... (4Bar LT QuadBT)
i hate programming dmx, so this is perfect for me. i would, however, like to see some special effects lights added to the line, like some moonflowers or derby's, anything!!! also maybe a simple switch that could connect to the same bluetooth app that could simply turn off and on a sound active light or effect.
Great
What a simple and great range of products. Working fine. Maybe the possibility to add a TAP tempo?
Great product
We installed these in our CHURCH and THEY are working very very well THE app part could use a little more features but otherwise working great
Great! exCept 1 thing
The app has worked well for me except it has never worked on sound activated. The app shuts diwn when i hit the sound activates button.
THE BTA app wont connecnt on IPAD PRO of latest IPHONE
Wish I could use it, Bought many BT Lights and cannot use it as designed
ThE bta app do not work apple Ios 13 upgrad. H
NoT a bad App if Chauvat Can fix problm with pair with the iphone Ios 13.1.2 , like the last revieWer Dan stated
Worthess garbage
Got shows to do and no sUpport. Reply from company … Hi Dan BT Air app is NOT compatible with Apples IOS13 or the new iPad iOS on the iPad Pros. They are working on a fix and they do not know how long this will take. we will be posting updates on our website regarding a fix. Thanks.
Not working ios 13.1.2
Will not connect to bluetooth light after upGrade to ios 13
I'm ready for gigbar uPdate
Hi – any chance oF getting a new gigbar with bLuetooth?
There's lag
The app functions perfectly except for one obvious problem: There's a fraction of a second of lag between pushing the touchscreen and the change in the fixture. If you're working in an environment where precise timing is not a concern, then this is the best route. Great concept and well done otherwise!