John Farr Lighting Design Creates Memorable Bar Mitzvah With Chauvet
February 2017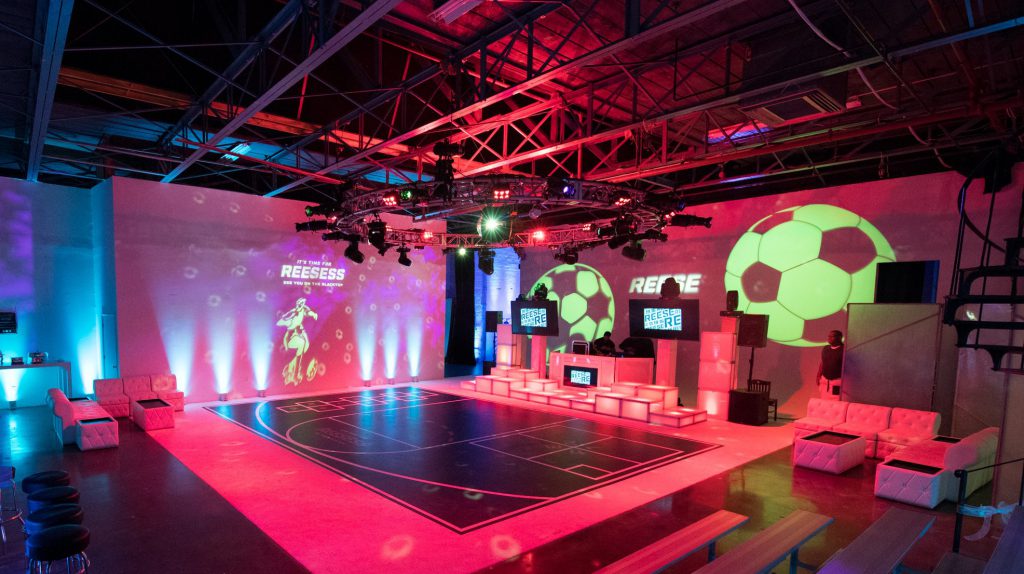 SILVER SPRING, MD – Bar mitzvahs provide memories that last a lifetime, not only for the young man who comes of age in the traditional Jewish ceremony, but also for his family and friends. In the case of one recent bar mitzvah, those memories are likely to be in vivid color, thanks to some stunning lighting by John Farr, using an impressive collection of CHAUVET DJ products, along with the Ovation E-910FC ellipsoidal and Amhaze II haze machine from CHAUVET Professional.
Farr, the owner of John Farr Lighting Design, turned the reception area for this suburban Washington, DC bar mitzvah into a cornucopia of bright vivid colors by using 48 Wash FX, 24 Freedom Par Hex-4 and eight Intimidator Spot 355Z IRC fixtures as well as 12 Ovation E-910FC units from CHAUVET Professional. For added impact, he also included a CHAUVET Professional Amhaze II haze machine and CHAUVET DJ Mirror Ball in his design for the room, which was set up to resemble a sports complex with large soccer ball wall graphics,  bleacher seating and a ball court pattern on the floor.
"Our goal was to make the area bright and colorful to reflect the spirit of the event and build on the sports theme," said Farr. "We relied on the Wash FX, Freedom Pars and Ovation fixtures to give us very bold colors and subtle color changes, while covering a wide area of the room. The Ovation E-910FC did double duty by allowing us to make bold statements with our gobos. We used it extensively for gobo projection and for color changing gobos. The ability to change color on a projected gobo gave the room an assortment of looks for this event. Plus, the Ovation's lens provided an HD crisp projection."
Farr hung his eight Intimidator Spot 355Z IRC fixtures on circular truss in the middle of the room and used them for moving light effects during dances. He located the Wash FX fixtures throughout the room, hanging them on truss and mounting them on stands to wash the area in color. "We needed to light a large amount of area for this event, and the Wash FX is great for that," he said. "For the price there is no better fixture."
The two dozen Freedom Par Hex-4 fixtures in the rig were also positioned throughout the room and used for uplighting scenic elements. With four 10-watt RGBAW+UV LEDs, this fixture provided a combination of punch and color rendering capabilities to create dramatic looks on the room's periphery. Farr controlled the battery-powered uplights with CHAUVETR DJ's FlareCON Air, eliminating the need for cables as well as power cords, something that was essential to his design for the bar mitzvah.
"We wanted to the level of control to be smooth, and we didn't want any visible cables detracting from the aesthetic appeal," said Farr. "This was very doable with the gear we used. It took some logistics work to mix the DMX for DJ fixtures with the DMX for professional fixtures, but that all turned out very well. In the end, we were able to create a level of colorizing that you just don't see every day at events. It made the day that much more special for the family."