The Right Cloud For Your Gig
Posted on December 10, 2019
Picture it…
A bride glides on a cloud. Guests freeze in confusion as a mist lazily wafts through your haunted house. Ms. Sweet Sixteen makes her grand entrance into the ballroom. Murky mystery lurks on the stage of your production. Wouldn't something be missing from these events, if you failed to produce a billowing fog?
In essence, your gig needs a fog machine.
CHAUVET DJ Cumulus or CHAUVET DJ Nimbus? Both machines produce an atmospheric effect of low-lying fog, which can be referred to as stunning floor-hugging clouds. Atmospherics might not be on your list of menu items for-hire yet. Let's find the right cloud for the job.
Nimbus
Product Manager Rick Peeples calls Nimbus the freight train of fog atmospherics. CHAUVET DJ Nimbus is designed to create literal ground-hugging cloud cover using the contact reaction of tap water, dry ice, and heat. Featuring dual power circuits that allow the machine to warm up in thirty minutes to an hour, operators should plan ahead to ensure your tool will work for you and your client. Nimbus weighs 28.6 pounds empty versus 75 pounds full, and the optional Nimbus Cart accessory allows for easy transport. At full output, the machine requires approximately 10 pounds of dry ice, five gallons of water, and lasts about the length of a song. What song have your bride & groom chosen to first dance? Nimbus is the perfect machine for that big moment. What other special moments will you help create when you up-sell with Nimbus clouds?
Cumulus
CHAUVET DJ Cumulus runs on two gallons of distilled water and, optionally, fog fluid. Specifically created to hug the floor, LLG (Low-Lying Gallon) is the CHAUVET fog fluid crafted to work harmoniously in Cumulus. Cumulus works through ultrasonic vibrations and atomization of the fluid mixture which is then pushed out via fan. In four minutes, your machine is ready to produce a host of effects you can control via DMX. Because the machine uses more water than fog fluid, and is designed to run long term, it's an ideal machine for lengthier performances at theatres, haunted attractions, or dance clubs. What other performances will you elevate when you program Cumulus clouds?
Learn More
CHAUVET DJ's video tutorial gives you a detailed breakdown on these epic low-lying atmospheric machines.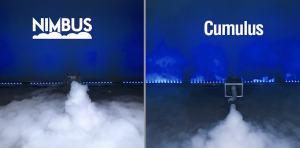 So, #NimbusClouds or #CumulusClouds…or both?