CHAUVET DJ Wins Two MMR 2014 Dealer Choice Awards
January 2015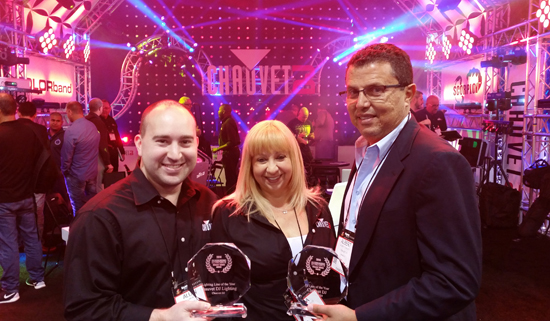 ANAHEIM, CA – History repeated itself at NAMM this year, and for good measure it added an exclamation point to its recurring message.  Not only did CHAUVET DJ receive its second consecutive MMR Dealer's Choice Lighting Line of the Year Award at the show, it took home the 2014 MMR Dealer's Choice DJ Line of the Year Award honors too.
"It's very rare for a company to win awards in two different categories in the same year," said Albert Chauvet, president and CEO of Chauvet. "From what I've been told, this marked the first time that the same company has received the Lighting Line and DJ Line award in the same year, so we're very honored and excited."
What makes the award especially meaningful to the CHAUVET DJ team is that it's based on voting by dealers. This is a tribute not only to the popularity of the company's groundbreaking new products, but also to its commitment of standing behind those products and working with dealers to build and maintain a healthy market.
"Certainly, these awards reflect the fact that we are making products that are well received by end users," said Chauvet. "However, this honor also goes beyond that to show that we care about service and supporting our dealers.  This is who we are as people and as a company, so the two MMR awards reflect what we're all about."
CHAUVET DJ has introduced a variety of products in 2014 that have captured the imagination of end users and dealers alike by offering new ways to overcome familiar challenges. These include the battery-powered remote-controlled EZ Series that frees mobile entertainers from the reliance on power outlets and cables. Another newcomer, the FlareCON Air and app, broke new ground last year by allowing end users to turn their phones into DMX Controllers. The wireless battery-powered Freedom Series of fixtures, which are compatible with the FlareCON app, also gave end users greater mobility in 2014.
On the color rendering front, CHAUVET DJ brought 6-in-1 LED technology to the market with fixtures like the SlimPAR Hex 6 IRC par-style RGBAW+UV high-output fixture.  The company's legendary Intimidator line also shook up the market in 2014 with the introduction of the Intimidator Wave IRC, which can create a club-like lightshow all on its own with five independently controlled moving heads projecting razor sharp beams.
"This has been an exciting year, with a lot of great new products for us," said Chauvet. "We're proud of the awards, but now our focus is to work hard and come out with more breakthroughs in 2015."