Miami Dolphins Put TRUSST in Chauvet
November 2012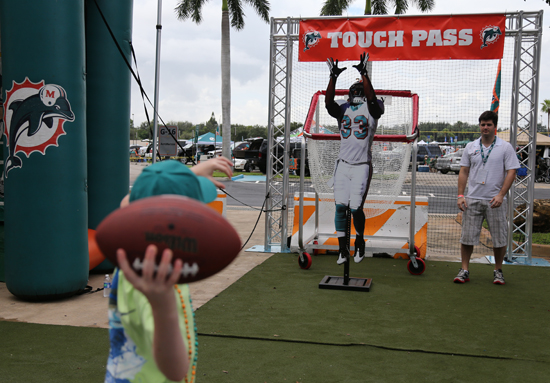 MIAMI GARDENS, Fla. — Prior to each home game at Sun Life Stadium, Miami Dolphins fans can mimic their favorite players at interactive football stations constructed from TRUSST® — a TUV-certified trussing system built with the highest standards of safety and backed by Chauvet.
About 12,000 fans pass through the grounds on game day at Sun Life Stadium. To enhance the game day experience, the Miami Dolphins event and entertainment department sets up three TRUSST®-built stations throughout the outdoor Grand Plaza where fans test their athletic abilities as they kick, snap and throw footballs.
"TRUSST® is working great for our application," said Steve Dangerfield, independent event and entertainment contractor for the Miami Dolphins. "It is so easy to assemble and I love how lightweight it is."
All three stations are constructed using 13 pieces of 3-meter TRUSST® truss manufactured from high-grade and lightweight aluminum to simplify transportation and setup. To ensure stability and secure the truss, each station is built on a foundation of 30-inch base plates and secured using CT-CONKIT6WAY connectors. In addition to providing fans with entertainment, each TRUSST®-built station supports nets and supports signage and team banners.